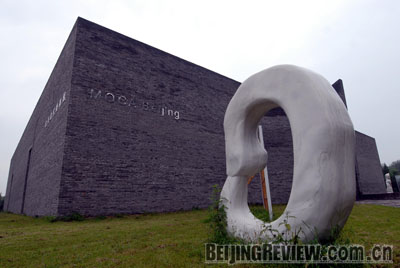 FOR ART'S SAKE: The modern facade of the Beijing Museum of Contemporary Art
He said apart from the people, the energy and creativity being manifest in the areas of cultural development in the arts and in academic institutions as well as the economic success are other aspects of China that attracts him.
Near career path
During his visit to China in October 2007, Carter was introduced to Qin Feng, one of China's foremost contemporary painters who had founded a modern art museum called Beijing Museum of Contemporary Art (BJMOCA) in the east of the city.
This meeting became the beginning of Carter's practical work in art in China. He was invited to write a catalog essay for a painting exhibition of Qin's museum held last April and was also formally invited to be the international curator and director. Carter accepted and since then has worked with his Chinese colleagues on developing the museum's exhibitions.
This is a new career for Carter, who always enjoys taking leadership roles in initiating new projects and providing leadership to existing institutions to achieve their goals.
"I like initiating and implementing creative projects as well as research and writing," he said. "As a professor, it is particularly important to foster in young people a desire to achieve excellence and a sense of purpose, including social awareness and commitment."
As the orientation and operational idea of the museum are to build up a modern and international venue, it needs an expert in aesthetics to bring an international perspective. Carter fits the bill superbly.
His basic work in the museum is to write critical essays for the museum's publications and help organize international exhibitions, linking Chinese artists with international artists. But the most important aspect of Carter's role at BJMOCA is to provide suggestions on exhibitions as an art consultant, said Li Tiejun, Executive Director of BJMOCA.
"We know that he has planned more than 200 art exhibitions in the past and maintains good relationships with all major art museums in the world, so we think he will help us better communicate with foreign countries," Li said.
Besides the work at BJMOCA, Carter has also helped organize other exhibitions in China and has written essays on the works of many contemporary Chinese artists, such as Xu Bing, who came back from the United States to be the vice president of the China Central Academy of Fine Arts.
Sound advice
Having visited over 50 contemporary artist studios in China and talked with a lot of Chinese contemporary artists in the past years, Carter has an increasingly clear understanding of the contemporary art of China. He thinks the rapid expansion of museums and art districts with studios and galleries in China is virtually unprecedented anywhere in the world, and he is happy to see that the cultural development of the country is keeping pace with its economic development.