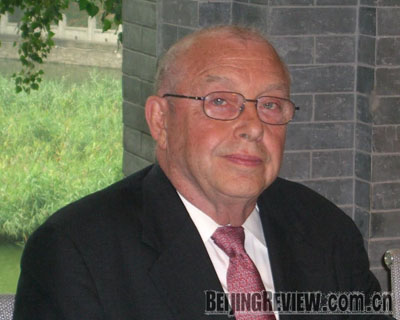 "They [Chinese artists] don't need to copy the West. That's no good."--Curtis L. Carter
Aesthetics can be a pretty daunting concept to many people. Most people have heard the word, but it is vague as to its implications or even what part it plays in everyday life. And what kind of person studies this branch of philosophy that deals with the nature and expression of beauty?
Professor Curtis L. Carter, First Vice President of the International Association for Aesthetics, is someone who has dedicated most of his life and energy to this field. Having always felt that it is important to make a connection between the theory and practice of art, he wanted to make contributions to more areas after graduating from Boston University, where he studied for his PhD in aesthetics, in 1971.
"The theory and practice of the arts have always interested me, and one of my chief interests has been to work toward establishing the place of the arts in education and in the fabric of a well-formed society," said Carter.
In his ongoing work to meld the process of art with the more abstract idea of aesthetics, Carter created the Haggerty Museum of Art in the United States. Although he has now left the museum as curator, he still continues his work there as a scholar in a practical sense. He is also professor of aesthetics and philosophy at Marquette University and the Les Aspin Center of the U.S. Government. During the years of exploration in this field, Carter has written a great number of papers or essays on aesthetics and art for major publications around the world and delivered academic lectures worldwide.
In recent years, Carter has focused much of his attention on China. He was invited to give lectures on aesthetics and contemporary art at China's top universities, including Peking University, a stalwart in art faculties. Carter's essays have been published in many Chinese academic journals. Peking University Press has published a chapter of his writings in a book on the history of aesthetics and has also invited him to write a book on this subject.
Carter was also a member of the official U.S. Greater Milwaukee Committee delegation that visited Beijing in March 2008 to explore cultural and educational exchanges between China and the United States. The delegation met with Chinese officials to explore culture as a bridge to mutual understanding and improved communication essential to collaboration in economic matters.
During that trip, Carter met many Chinese artists and visited some cultural facilities in Beijing, including the newly opened National Center for the Performing Arts and the booming 798 Art Zone, which provided him with insights into Chinese contemporary cultural development.
"My Chinese colleagues have welcomed my contributions, and I have benefited greatly from the mutual exchange of the understanding of our respective cultures," Carter said.