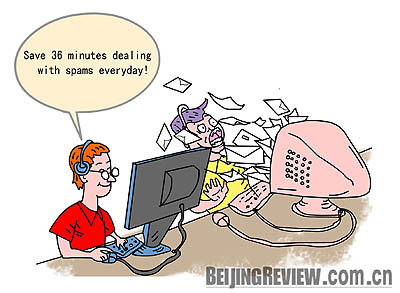 LI SHIGONG
Almost every Internet user has been bothered by uninvited spam while enjoying the convenience of e-mail. Xi Dongmei, an employee at a design company, finds her inbox inundated with spam messages every day, some well disguised.
"The first thing I do everyday after I start my computer is to delete the annoying junk mails. Sometimes the title of the spam is written in such a tricky way that you could mistake it for mail from a friend," said Xi.
Business Internet users are particularly badly affected by the junk mail problem. It takes them an average of 36 minutes to deal with junk mails each day, according to a survey by the Anti-Spam Center of the Internet Society of China (ISC).
The companies received good news on March 25 when the Anti-Spam Center of ISC and China's Internet service provider Net263 Co. launched a non-profit campaign to help business users ease the spam problem.
ISC and Net263 will provide anti-spam technology that they have co-developed under a national project to enterprise Internet users who have not taken any anti-spam measures.
Development of the technology, which is called TAP intelligent anti-spam gateway, first began at the end of 2004 and lasted one-and-a-half years. It can block spam at a success ratio of 99 percent.
"We offer the free anti-spam service to business users so that the technology can better contribute to society," said Zeng Mingfa, Director of the Anti-Spam Center of ISC.
Anti-spam war
In 2007 China witnessed an unprecedented success in fighting Internet spam, according to a report released by ISC in January.
"The number of junk mails from China to other countries fell to 4.9 percent of the world's total in the third quarter of 2007, 8.5 percentage points lower than the same period of 2006," said Zeng, quoting a survey conducted by Sophos, a British Internet security company.
The decline helped lower China's rank in the world spam producers' list from second to third, the first two being the United States, which produced 28.4 percent of the world's spam, and the Republic of Korea, which had a share of 5.2 percent, according to Zeng.
According to ISC's latest statistics, in the fourth quarter of last year, junk mails received by Chinese netizens each week accounted for 55.65 percent of their total incoming e-mails on average, a drop of 3.33 percentage points from the same period of 2006. This caused a total loss of 18.8 billion yuan ($2.7 billion) for the country, which was an increase of 80.6 percent compared to 2006.
"Both the government and the industry devoted unremitting efforts to tackle the spam problem," said Huang Chengqing, Secretary General of ISC.
ISC, which groups China's major Internet service providers and telecommunications operators, has played an important role in the battle against junk mails.
The organization launched an anti-spam service platform that helps filter unwanted commercial e-mails on June 18, 2007. Featuring both a blacklist and a whitelist, this platform ensures a smoother e-mail communication system in China. Li Hong, Deputy Secretary General of ISC, said that 10 websites, including Sina.com, Netease.com and Yahoo.com, have subscribed the blacklist so they can have constant updates to block unwanted bulk e-mails.
The former Ministry of Information Industry, now the Ministry of Industry and Information, adopted the Measures for the Administration of Internet E-Mails on March 30, 2006. The regulations are designed to apply to e-mail service providers and to any person operating e-mail services for Internet users on the Chinese mainland.
On August 16, 2006, a company in Shenzhen, which had sent junk mails to netizens, was the first to be punished pursuant to the rule. The company was ordered by the Guangdong Communications Bureau to stop sending spam e-mails and fined 5,000 yuan ($714).
Global cooperation
International cooperation has played an important role in tackling spammers. "Timely warnings from other countries have helped us crack down on junk mails," said ISC's Huang, acknowledging the flood of spam has become a common problem requiring global efforts to solve it.
Based on self-discipline within the industry, efforts have been made to establish international cooperation, build up trust, draw up standards, expand the blacklists of spam senders, and explore multi-lateral and global anti-spam cooperation, according to Huang.
ISC has not only established relations with international anti-spam organizations, but has also signed anti-spam agreements or memorandums with eBay, Microsoft, AOL, Yahoo and the Internet Society of Australia.
In 2005, China signed up to an international agreement to crack down on unsolicited e-mails by adopting the London Action Plan on Spam Enforcement Collaboration-a group that works to target spammers. It also signed the Seoul-Melbourne Multilateral Cooperation Agreement of Anti-spam with the Korea Information Security Agency (KISA). ISC maintains a long-term relationship of cooperation with KISA, regularly exchanging information and data.
Huang also said that ISC has carried out a thorough study on how to cooperate on eradicating spam internationally.
On July 12, 2006, KISA reported to ISC that some IPs from China often changed domain names and spread malicious codes by spam. ISC quickly checked them out, gathered witness evidence and had the spread of spam stopped.
In September 2006, the Internet Law Group of the United States asked for help in investigating a problematic IP under their observation. ISC responded actively and offered quick feedback. Through these cooperative actions, more information on dealing with spam e-mails has become available, and at the same time, China has made positive contributions to the international anti-spam efforts, wining itself a good reputation internationally.
Though China has done a great deal of work in regard to Internet security and anti-spam, and has achieved initial success, various kinds of unsolicited electronic messages and many Internet problems still interrupt netizens' lives and the order of the network, Huang said.
"There is still a long way to go. We shall work harder, closely cooperate with international organizations and contribute more to the sound development of the global Internet," Huang concluded.