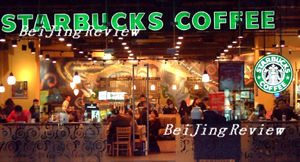 For Li Mei, the Starbucks in Xidan, a commercial district in the heart of Beijing, is so much more than a place to grab a cup of coffee. She spends most of her time there.
"I could stay at Starbucks for the entire day," the 26-year-old freelance writer said.
A day at Starbucks for Li starts at 9 a.m. After ordering a sandwich and a coffee for breakfast, she turns on her laptop and starts to write commentaries or love stories, which are usually directly e-mailed to her editors. The stories are typically inspired by the people drinking coffee around Li or walking by in the street.
Wang Qiang, a businessman, is a patron of the Starbucks cafe at the China World Trade Center in Beijing's central business district. He prefers a table by the window, where he has had countless discussions with many business partners and friends. "Every time a business partner or a friend comes to visit me, I usually say, 'why don't we go to Starbucks?'" Wang noted.
Beijing is about to welcome its 50th Starbucks cafe. To residents of this city, Starbucks is more than a cup of coffee. In fact, since the company opened its first shop on the Chinese mainland in Beijing in 1999, coffee has not been the top attraction for Chinese customers. Among trendy young people, Starbucks is a byword for chic, representing the culture behind the brand.
"I like the environment of Starbucks," Li commented.
The signature of a Starbucks shop is its quiet ambience. The background music is often slow and relaxing, which is good for a person to sit alone, have a sip of coffee and ponder anything deep in one's heart.
According to Charles Wang, President of Beijing Meida Coffee Co. Ltd., Starbucks' shops are intended to fit into people's lives as "a third living space" besides home and office, where people can linger, relax and discuss.
In the initial days after entering the Chinese mainland, Starbucks targeted as its customers foreigners living in China and Chinese returning from abroad. Some of these people had become accustomed to going to Starbucks for a coffee and relaxation after work. Therefore, in the first Starbucks cafe in China, regulars typically spoke foreign languages rather than Chinese.