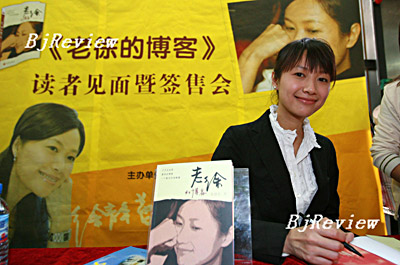 China will draft new regulations to exert tighter controls over the growing number of blogs and webcasts, the head of the country's media watchdog said on Monday.
"Advanced network technologies such as blogging and webcasting have been mounting new challenges to the government's ability to supervise the Internet," said Long Xinmin, director of China's Press and Publication Administration.
Long said Internet publishing, blogs, and websites that post webcasts would be affected by these regulations.
He explained the new regulations would ensure "a more healthy and active Internet environment" and would "fully respect and protect Chinese citizens' freedom of speech." He did not give any specific details on what kind of regulations would be imposed.
The number of bloggers in China reached 20.8 million by the end of 2006, of whom 3.15 million are active writers, according to the China Internet Survey Report 2007 released earlier this year.
The report also said that YouTube-style websites were visited by about 76 million of the 137 million Chinese Internet users last year, bringing in 40 million yuan (about US$5 million).
Despite their growing popularity, bloggers and webcasters have been unpopular with publication authorities.
In 2006, a series of cases involving bloggers who infringed on other people's privacy and wrote libelous material prompted the government to consider requiring bloggers to identify themselves when they register for a site.
Webcasting without copyright authorization and mocking parodies produced from copyrighted materials have also led government officials to consider initiating a nationwide check of online video broadcasting, and allow only licensed websites to continue offering webcasts.
(Xinhua News Agency March 14, 2007)