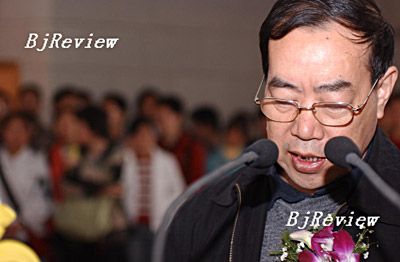 One of the most popular contemporary writers in China suffers heavily from piracy.
Jia Pingwa has collected some 60 versions of pirate copies of his novel The Ruined Capital (Fei Du in Chinese), published in 1993.
He collected them at book-signing promotions in Beijing, Xi'an and Chengdu.
He said experts estimated the total number of illegal copies of the novel to exceed 10 million.
For his latest work Qin Qiang, published in 2005, Jia has found seven versions of illegal copies in Xi'an, the city where he lives.
"I have found pirate copies of every book of mine," Jia, who is attending the CPPCC as a member of the Literary and Arts Circle, said.
"They not only infringed my copyright but also harmed readers."
Jia pointed out that among the pirate books there were simple copies of his published books, newly edited collections of his old works, and some books not by him but put under his name.
Last year, a writer named Chen Yufu accused Jia of plagiarizing his novel, Special Case Team No 1 in Jia's Corrupt Official No 1, but the latter proved to be an illegal publication put out under Jia's name.
"We depend very much on the administrative means to punish piracy, but they have proved not to be very effective," Jia said.
"I hope the police will get more involved in the crackdown on the source of piracy."
The National Copyright Administration (NCA) is China's administrative body for protecting copyright and preventing piracy. The NCA can confiscate illegal copies, impose fines, and revoke administrative permits of those who violate the rules.
"In China we have both administrative and legal protection of copyright," Gui Xiaofeng, former vice-director of the NCA and a member of CPPCC's Journalism and Publication Circle, said.
"The administrative methods are necessary and suitable to China's social conditions, as the government has its advantage in fighting piracy, but administrative means alone are not enough, and more legal actions are needed."
Shen Rengan, chairperson of the board of directors of the Copyright Society of China, said China had established a relatively complete system of laws to protect copyright, but the enforcement of those laws still needed to improve.
Also, people's concept of protecting copyright is often not very clear, he said.
"China is a very big country, and the economic and cultural development of different areas are not balanced," Shen said.
"This contributed to the difficulty in promoting the concept of copyright."
The Copyright Society of China, where Shen works, is a non-governmental organization formed by copyright professionals, legal workers and writers to promote copyright knowledge. The society's activities include publishing the Chinese Copyright magazine, providing training about copyright protection, and helping people whose copyrights are infringed to file suits.
"We hope to make a contribution toward copyright protection, but this takes effort from all sides," Shen said.
(China Daily March 14, 2007)