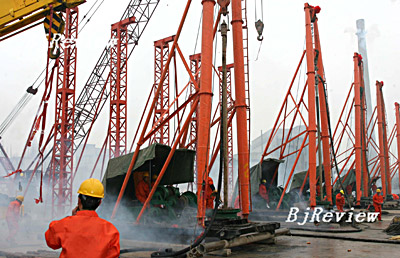 The 2010 World Expo in Shanghai, to run from May 1 to October 31, will benefit from an estimated budget of 28.6 billion yuan (US$3.7 billion), it was revealed on Tuesday by Zhu Yonglei, deputy head of the 2010 World Expo coordination bureau.
The budget will be covered by government investment and funds from the public sphere.
The budget will be broken down into two areas: 18 billion yuan (US$2.3 billion) to cover infrastructure development, emanating from government investment and bond issues, and 10.6 billion yuan (US$1.4 billion) for operation costs, to be drawn from ticket sales, corporate sponsorship and merchandise sales.
The 2010 World Expo's park will spread over an area of 5.28 square kilometers, providing total floor space of over two million square meters.
For the park's construction alone, the State Development and Reform Commission has signed off on eight billion yuan in bond issues. Two batches of the bonds, with a value of 5.5 billion yuan have already been issued, with the third batch to come later this year, Zhu stated.
Wang Jinzhen, deputy head of the China Council for the Promotion of International Trade and a member of the 2010 World Expo organizing committee, announced on Tuesday that 105 countries and 15 international organizations have so far confirmed they will attend the Expo.
The organizing Committee has placed hopes of over 200 countries and international organizations attending the 184-day event, topping the 120 countries seen at the 2005 World Expo in Japan.
(Xinhua News Agency March 14, 2007)