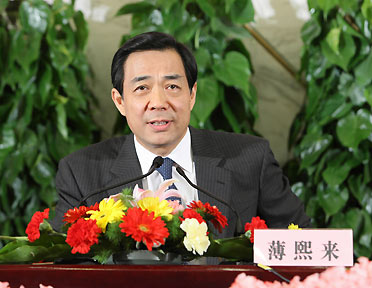 Trade policy adjustments alone are unlikely to be capable of reducing China's mounting trade surplus in the short term, according to Bo Xilai, the country's Minister of Commerce.
Speaking at a joint press conference with the Governor of China's central bank Zhou Xiaochuan, Bo rebuffed suggestions that an "undervalued renminbi" was responsible for the U.S. trade deficit with China. And he said that a proposed U.S. bill that would impose a 27.5 percent tariff on Chinese imports would have a "destructive" impact on currently healthy U.S.-China relations. He said the bill amounted to both "trade protectionism" and "trade hegemony".
China's total trade surplus in 2006 amounted to $177.47 billion, a sharp increase from $101.88 billion in 2005. The country's total trade surplus had never exceeded $44 billion before 2005. As a result, China's total foreign reserves reached $853.6 billion, surpassing Japan, making it the world's largest forex reserves holder, in February 2006. In November, China's foreign reserves exceeded $1 trillion.
Bo told the press meeting that the majority of China's trade surplus is created by processing trade, which is mostly carried out by foreign-funded companies in China. Moreover, more than half of China's commodity trade surplus is created by foreign-funded companies, he said.
"Instead of pursuing a big trade surplus, China wants a balanced international account," said Bo. China has introduced a series of trading policies targeted at increasing imports and reducing the growing rate of exports, he added. However, he said he believed that the trade surplus was a natural result of international industrial composition and the global economic situation.
The most effective measure to cure China's unbalanced current account would be to "conduct an economic structural adjustment," according to Zhou. To do this China must enlarge domestic demand, develop its service sector and encourage imports, he said.
Bo said that the highest barrier to the suspended Doha Round of global free trade talks was that the U.S., Japan and the EU failed to make necessary concessions to reduce protection measures on agriculture, including a high tariff on agricultural produce, export subsidies and domestic support.
According to Bo, China, as a developing country, had offered "more than enough" in the negotiations. China's overall tariff level is 9.9 percent and its agricultural produce tariff level is 15 percent, which are lower than the global averages of 39 percent and 60 percent, he said. People who predicted China would be the biggest winner from the Doha Round were working to force China into making trade concessions, he added.