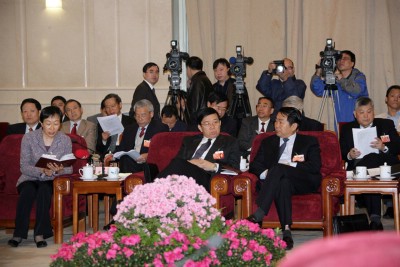 In the group discussion of Chongqing Municipality, Yuan Changyu, President of Chongqing Minmetal and Machinery Import & Export Corp. put forward two suggestions to government regulatory agencies on foreign trade, based on her work experiences.
She asserted that the government's adjustment of export rebate rates on different categories of commodities had been too frequent over the past year, which has kept companies involved in international trade, including her own firm, busy adjusting themselves to the profit changes caused by export rebate rate fluctuations.
Secondly, she said floating of the renminbi exchange rate should be conducted by China's central bank stage by stage to avoid a dramatic fluctuation, which, she believed, could lead to a drop in foreign direct investment. Yuan said that both suggestions were collected from her discussions with counterparts at several Chongqing-based companies involved in international trade.
Chen Zemin, founding president of a private frozen food company, and a deputy from central Henan Province, said he believed that the government should pay more attention to the problem of unemployment and should introduce more employment-friendly taxation and fiscal policies.
As for the outstanding social problem of unemployment for university graduates, who are "good at scoring a high mark in exams and poor in solving problems in real life," Chen said the key could be for the government to provide them with incentives to work in rural areas and even poverty-stricken regions.
"If a student from a rural area is admitted to an agriculture-related major at a university or admitted by a college of agriculture, the state should pay all their tuition fees. To encourage university graduates to work in rural areas, the government should pay them salaries to make sure they can earn more than from working in cities," he added.
Liu Zhihua, a village head from Henan, said her area had been polluted by a nearby paper plant. She asked for more government effort in combating pollution in rural areas. "While pollution control has been strictly monitored in cities and city residents, with a stronger awareness of environmental protection, can use the law to protect themselves, farmers are very weak in this regard," she said.
Xu Shiqun. a retired government official, questioned the rationality of a new education policy introduced by this year's government work report, which will provide free education to student teacher majors in the six normal universities directly under the administration of the Ministry of Education from the fall semester. Xu said that the policy should be expanded to include students from all provincial-level normal colleges and schools in China's western region. He argued that the number of provincial normal colleges and schools is much larger than six; the proportions of poor students in need of government support in these colleges and schools is larger than that in the six key normal universities; and that a larger proportion of graduates from these colleges and schools would go to teach at primary schools and junior secondary schools in poor regions compared with the six key normal universities.
Wang Xinqiong, a government official in a township of Sichuan, said that well-intentioned government attempts to widen education had led to overcrowding in some schools. After the government exempted students in rural areas from paying tuition fees for nine-year basic education last year, Wang's region had experienced a sharp rise in enrollment of students at primary schools and junior secondary schools, which led to overcrowding and a shortage of teachers. She said nearly 7,000 primary school and junior secondary school students could not return to campus at the beginning of the new semester in 2006 because of a shortage of classrooms. Wang asked that the government earmark subsidies to address the problem.
Xiong Fangqiu, who works at an agricultural research institute in Xichang City, Sichuan Province, said she had paid field trips to local rural areas to solicit suggestions from the public prior to the NPC meeting. Despite the mountainous region being rich in hydropower local farmers had been unable to profit, she said. Companies building hydropower stations on the land had registered their companies in other areas, and were not paying tax to the local government, she complained.