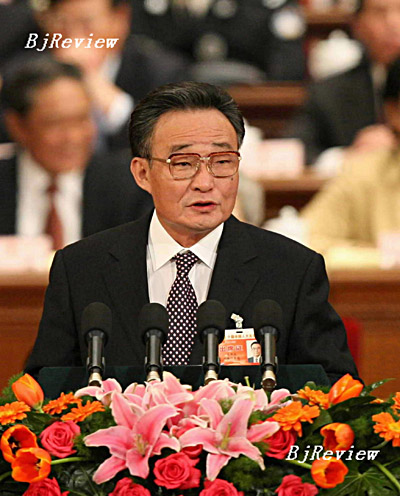 China's top legislature, the 10th National People's Congress (NPC), will intensify its legislation focusing on social affairs this year, top legislator Wu Bangguo said Sunday.
"While continuing work to improve economic legislation, we must also concentrate on strengthening legislation related to social programs to provide a solid legal foundation for building a harmonious socialist society and to ensure attainment of the legislative goal of the 10th NPC," Wu said.
The NPC Standing Committee chairman unveiled the legislative plan for 2007 when delivering a report on the work of the NPC Standing Committee at the legislature's annual plenary session.
The main legislative tasks this year include enactment of the Law on Labor Contracts, Employment Promotion Law, Social Security Law, Law on Mediation and Arbitration of Labor Disputes, Law on Administrative Decrees, Law on Response to Emergencies, Antitrust Law, Law on State-Owned Assets, Law to Combat Illegal Drugs, Law to Curb Illegal Activities, Law on Urban and Rural Planning, and Circular Economy Law.
In addition, the legislature will revise the Law on Scientific and Technological Progress, Civil Procedure Law, Criminal Procedure Law, Law on Food Hygiene, Law on Energy Conservation, and Law on Attorneys, according Wu.
"We have noticed that a large proportion of the laws planned to be enacted or revised in 2007 target at regulating social affairs," said Fu Yonglin, an NPC deputy from Sichuan Province.
For example, the draft employment promotion law, which was submitted to the NPC Standing Committee for reading in February, prohibits discrimination against job seekers despite their ethnicity, race, gender, religious belief, age or physical disability. And the governments above the county level are required to establish an early warning system to prevent, regulate and control possible cases of large-scale unemployment.
The draft law is urgently needed as the employment situation at present and in a long period to come is not optimistic, said Fu.
Wu Bangguo said the current NPC and its Standing Committee will achieve the goal of basically establishing a socialist legal system with Chinese characteristics and improving the quality of legislation before the current five-year legislative tenure ends in next March.