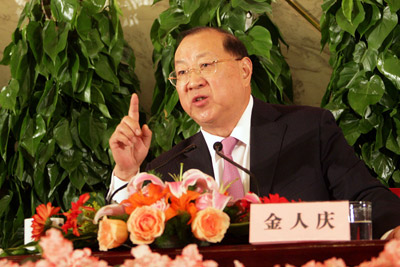 The draft corporate income tax law, currently under review by the National People's Congress, will not bring about a major financial burden to overseas-funded firms, nor dampen their investment enthusiasm, revealed Finance Minister Jin Renqing Friday.
The draft bill would introduce a flat 25 percent income tax rate for both domestic and overseas-funded companies, moving from the current system where domestic firms are plagued by a higher 33 percent rate.
However, the draft gives an incentive for high-tech companies, lowering the rate to 15 percent, while also offering special consideration to companies hailing from Taiwan, Hong Kong and Macao.
"Given that close to 60 percent of companies funded from Taiwan, Hong Kong and Macao are relatively small, the draft specifically set a rate of 20 percent for this bracket of enterprises," said Jin.
Furthermore, Jin revealed that for small companies, the increase from 15 percent to 20 percent would be incremented evenly over five years.
The tax hike for overseas firms would stand at 43 billion more a year after an increase to 25 percent, Jin estimated, but the increments will reduce this burden initially to only 8 billion more a year.
Therefore, after taking in their significant profits, this would not be of great long-term difference to their investment strategies in China.
If passed, the law will come into effect on January 1 next year, giving the overseas firms a transition period to adapt, noted Jin.
Beyond changing the tax strategy, the draft bill also contains incentives for firms with a proven environmental protection and energy saving record with appropriate deductions being made from their tax quota.
Addressing the heavily-scrutinized oil tax, the minister announced related preparations but that its announcement would come when conditions were ripe.
The oil tax would have to be in line with current energy conservation and environment protection efforts, said Jin, adding that it would be principally intended to help collect road use and highway maintenance fees.
In closing, Jin reaffirmed that China will soon create an investment corporation which will oversee the country's rising foreign exchange reserves which now stand at over one trillion US dollars.
China's cabinet, the State Council, will supervise the corporation, removing its aegis from the Ministry of Finance's remit. Although the State Administration of Foreign Exchange will maintain its management of normal forex reserves, the rest will go towards making more profitable investments.
Expert estimates have placed at US$700 billion the forex figure that China needs to maintain to cover its foreign trade requirements.
(Xinhua News Agency March 9, 2007)