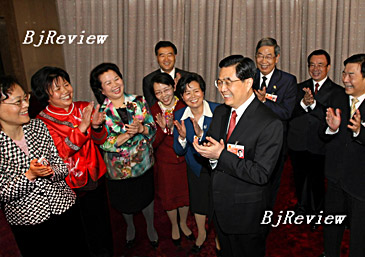 Chinese President Hu Jintao on Thursday urged Party and government officials to better serve the people and live frugally.
"Our quality of life is improving, but we should keep a clear mind and carry forward our glorious traditions," he said when joining a panel discussion with lawmakers from southwest China's Chongqing Municipality during the annual full session of the National People's Congress (NPC), the top legislature of the country.
The Chinese government has taken strong measures to step up efforts towards stamping out corruption and building a clean government. In the past four years, around 30 NPC deputies and members of the Chinese People's Political Consultative Conference (CPPCC) have been ousted.
Hu, also general secretary of the Communist Party of China (CPC) Central Committee, took the opportunity of the panel discussion to call for a nationwide effort to modernize the agriculture sector, increase farmers' income, and build a new socialist countryside.
"We should effectively change the mode of economic growth, and go all-out for industrial restructuring, innovation, energy conservation, and environmental protection, while deepening reform and opening-up."
In a separate panel discussion with NPC deputies from the Jilin Province, Wu Bangguo, chairman of the NPC Standing Committee, said the draft property law, which was put up for deliberation at the ongoing NPC session, is a basic law on regulating the property ownership and will play a supporting role in the Chinese-style socialist legal system.
Wu said legislation must combine the Party's opinions with the people's will under the principle of "putting people first," with the goal of safeguarding the fundamental interest of the people.
Joining the discussion of lawmakers from Guizhou Province, Premier Wen Jiabao called on the Guizhou people to build more infrastructure projects, develop industries that suit local conditions, curb desertification, and continue with their poverty alleviation efforts.
Senior leaders Zeng Qinghong and Wu Guanzheng, while joining the discussions of lawmakers from Xinjiang and Qinghai respectively, voiced their opinions on a wide range of issues, including building a harmonious society and a new socialist countryside, and the fight against corruption.
(Xinhua News Agency March 9, 2007)