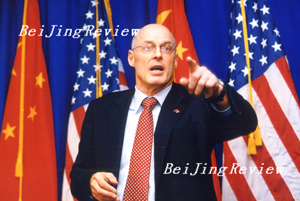 US Treasury Secretary Henry Paulson repeated that the US-China relationship is of prime importance and that China should not be perceived as an economic enemy.
"I would say that our relationship with China is multifaceted and it's a very important relationship for the US. And I don't believe we need to make China an enemy," said Paulson in an interview taped Friday for This Week on ABC and broadcast Sunday. "The economic relationship is an important part of the overall relationship," he said.
"If we manage affairs properly on a long-term basis, and if we manage the overall relationship with China well, it's going to benefit both of our countries for a long time to come," Paulson said.
It is essential for both countries to keep up strong economic ties, said Paulson, who will make his third visit to China this week as Treasury Secretary.
During the interview, Paulson was upbeat about the US economy, playing down chances of a possible economic downturn.
"The consumer's strong. Exports have been greater than imports for quarters running, and they're adding to our growth," the secretary said.
"We've got a very healthy labor market… Inflation seems to be contained. But what really makes the difference is that the average worker is now beginning to feel the benefits. Real income is up 2.1 percent for the average American worker over last year. Thus, I'm feeling good about the US economy," Paulson said.
(Xinhua News Agency March 5, 2007)