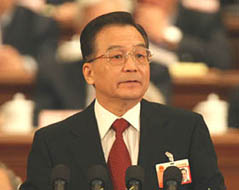 China plans to cool down its economic growth by curbing it to eight percent, a level lower than the staggering 10.7-percent GDP growth rate seen in 2006, according to a government work report delivered by Premier Wen Jiabao on Monday.
"The most important task for us is to promote sound and fast economic growth," said the premier to 2,890 lawmakers at the opening meeting of the Fifth Session of the Tenth National People's Congress (NPC), China's top legislature.
"We need to greatly improve the quality and efficiency of economic growth," Wen said.
This target came after careful consideration of all factors, along with employment goals and increase in consumer prices among others, Wen said.
Experts see it as the right way to achieve smooth and regular economic growth.
NPC deputy Zhao Peng, president of the Anhui branch of the Industrial and Commercial Bank of China, called the target "reasonable".
"Higher growth rate will lead to overheating and a lower one is less helpful in resolving social problems," he said, adding that China still has stamina in economic development.
Chen Derong, NPC deputy and mayor of Jiaxing City in east China's prosperous Zhejiang Province, stated that the goal would help local governments shift their focus from blind economic competition to structural optimization of industries whilst improving efficiency and energy saving.
A World Bank report released on February 14 predicted a 9.6-point growth in China's economy this year. Louis Kuijs, senior economist on China and the author of the above report said China had showed great potential in improving productivity.
The report comments on further Chinese government pledges, namely to lower urban unemployment to under 4.6 percent by creating at least nine million new jobs, while keeping the overall increase of consumer prices, an important inflation measure, at under 3 percent.
Governmental spending on agriculture, rural areas and farmers topped 339.7 billion yuan (US$42.5 billion) in 2006, a major year-on-year increase of 42.2 billion yuan (US$5.3 billion). This followed the rescinding of all agricultural tax and taxes on agricultural products, a practice that had existed for over 2,600 years.
Urban per capita disposable income rose to 11,759 yuan (US$1,469.9), and rural per capita net income climbed to 3,587 yuan (US$448.4) in 2006, up by 10.4 percent and 7.4 percent respectively, according to the report.
(Xinhua News Agency March 5, 2007)