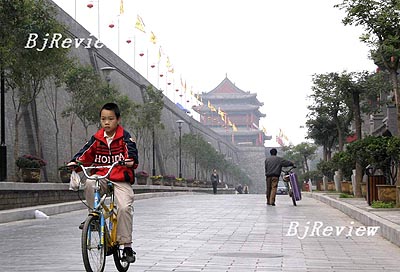 通过文化复兴提升城市价值
作为十三朝古都,西安是目前中国最能体现皇朝风范的城市之一。据史书记载,盛唐时期的长安城(西安)总面积达91平方公里,恢弘壮丽,是中国古代规模最大的国都。
历经沧桑之后,西安保留下来的长安城目前大约只有12平方公里,这就是如今西安的老城区。然而,随着上世纪90年代大规模的城市建设拉开序幕,一大批拔地而起的现代新建筑,将钟鼓楼、城楼等标志性的传统建筑湮没在高楼大厦之中,与此同时,大量低矮的传统民居被改造,商业区的过度繁华也让老城人满为患,使西安古城的整体风貌遭到了破坏,这也就导致西安一度出现了"有古城墙而无古城"的尴尬局面。
但是,不管情况发生怎样的改变,西安在中国乃至世界历史文化上的地位仍举足轻重。据西安市文物局副局长向德介绍,西安现有登记在册的各类文物点达2944处,其中全国重点文物保护单位就有41处。2007年5月18日开馆的西安博物院,建筑面积只有16000余平方米,却收藏了西安各个历史时代的文物达13万件,其中属于国家三级以上珍贵文物的就有14400件。
"西安这么多文物,首先是要保下来,然后还要用起来,让它们产生社会、经济效益。"西安市城市规划局局长和红星直言。
对于如何发挥历史文物的价值,和红星给出的答案是"亮出来"和"串起来"。具体来说,就是一方面要把有价值的历史文物向公众展示,接受公众的评价;另一面要把这些文物编成体系,统一风格,这样既便于管理,又可以体现出完整的城市历史记忆。
据了解,作为"唐皇城"复兴计划的一部分,西安如今已编制完成了西安城市建设文化体系规划和西安历史文化街区保护规划。为此,西安市将加强对重大历史文化遗址的保护,对旧城区的超高建筑进行彻底清理,对旧城内的传统民居和优秀建筑进行保护,并且统一了城市建筑的主色调(灰色)。据西安市政府常委、宣传部部长王军介绍,西安市现在每年用于文化街区保护的费用达到5000万元。
值得一提的是,为了更逼真地再现当时的历史风貌,西安市投入巨资开工建设了几个大型的历史文化主题公园,并且以历史原型为基础编排了适合现代观众口味的大型诗乐舞剧,这些利用高科技把传统和现代元素巧妙糅合在一起的创意,吸引了越来越多的游客。据西安市旅游局提供的数据,2007年一季度,西安市接待海内外游客约432万人次,同比增长11%,增幅大大超过全国平均水平。
"'唐皇城'复兴的一个重要内容是把地底下、书本上的东西拿出来,使隐性的历史文化价值显性化。" 和红星说。
西安古城的定位是要成为西安历史、文化、民风、民俗的集中体现区域。为了减轻人口压力,西安市将把行政中心迁出老城,同时在古城构筑步行系统,禁止机动车入城,城内交通以公交车、电瓶车和非机动车为主。
为了充分挖掘、展示西安的文化内涵,西安市专门成立了一个"文化特区"--曲江(中国历史上久负盛名的皇家园林,是盛唐气象的典型代表)新区。这是一个以文化、旅游为主导产业的城市发展新区,2007年8月11日,被国家文化部授予国家级文化产业示范园区。它主要是通过整合资源,组建大型文化产业投资集团,以举办演出、承揽会展等形式,打造文化品牌,带动整个西安文化市场的活跃。据不完全统计,2006年,西安市文化产业增加值为75亿元,比上年增长16%,占当年GDP的5 .2%。
"文化品牌是提升城市价值的有效方式,西安要通过文化艺术的复兴,带动城市的复兴。"和红星说。
Using brand value
Although Xi'an's basic Tang Dynasty layout remains and the city's 12-meter high wall is still intact, a large part of the old city has been demolished to make way for new development. In most cases modern planners have given little thought to maintaining a harmonious architectural style across the city, and many of the remaining old buildings suffer from poor protection.
A project to halt any further damage to Xi'an's architectural history will begin to properly protect its old buildings. According to Xiang De, Deputy Director of Xi'an Administration of Cultural Heritage, a total of 2,944 registered sites of cultural relics are scattered around the city, of which 41 have been ranked as sites under key state protection.
Xi'an Museum, which was opened on May 18, covers a floor area of only 16,000 square meters, but has collected over 130,000 cultural relics from Xi'an's past. Among this rich collection, 14,400 pieces are classed as cultural heritage under state protection.
He Hongxing, Director of Xi'an City Planning Bureau, said, "The top priority is to protect and preserve the cultural relics, and then we can best exploit their social and economic value."
As for how to get the best value out of historical relics, he said key measures should include exhibiting them to the public and inviting comment. Meanwhile, the city's cultural heritage will be categorized in order to make its management easier.
As part of the plan to rejuvenate the prime of the Tang Dynasty, Xi'an has implemented a plan to rebuild Xi'an's culture and protect streets with rich cultural relics. Concrete measures include better protection for sites of significant cultural relics, the banning of high-rise building in ancient parts of the city, the protection of historical residences and the acceptance of gray as the basic color of the city. According to statistics from the city government, the annual cost for maintaining Xi'an's cultural heritage in recent years has been 50 million yuan.
To reduce population density in the ancient part of Xi'an, the city government has decided to move the government headquarters out of the area. The use of private cars will be limited while the use of bus, electric car and non-motorized vehicles will be encouraged.
Xi'an has also set up a new industrial park dedicated to cultural development industries. In this new industrial park named Qujiang, investment will be injected to found new companies in the culture industry, in the hope of breathing energy into Xi'an's stage performances and exhibitions.
"Xi'an's rejuvenation should start from the rejuvenation of its culture," said He.