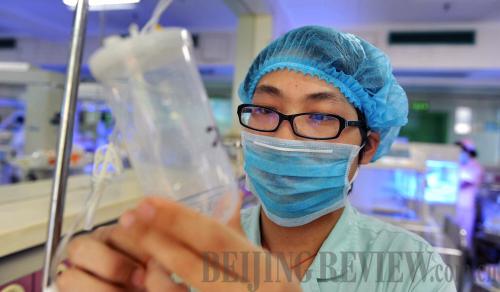 POPULAR USE: A nurse at a hospital in Changsha, Hunan Province, prepares an IV infusion for a patient (LONG HONGTAO)
Shi Zijun, 6, sat in the corridor of the emergency pediatrics department of a hospital in Beijing. He wanted to take a good look at the toy of a nearby child, but he didn't dare move since he had an intravenous (IV) tube in his arm.
"Since he was 3 years old, he has had pneumonia two or three times a year. Only IV therapy can cure him now," said his grandmother. "In the past, we gave him medicine and it sometimes worked. But now it doesn't work at all."
So, when Shi got sick again, his father and grandmother immediately took him for an IV drip.
The statistics of the WHO in 2004 show China is the world's biggest user of IV therapy. During that year, 5 billion IV infusions were given in the country—more than 30 percent of the world's total of 16 billion. In 2009, 10.4 billion bottles of fluids or medication were infused intravenously, averaging eight per person, said Zhu Zhixin, Vice Chairman of the National Development and Reform Commission. The worldwide average is about 2.5 to 3.3 bottles per person. In China, IV infusion has become a common medical therapy, while in foreign countries it is sometimes even considered a minor operation with significant risk.
Doctors at People's Hospital in Beijing say IV infusion should be used only if oral medicine is ineffective, since potential side effects associated with IV infusion are greater. IV fluids go directly into one's blood and are absorbed very quickly. Although that is one reason IV therapy is desirable, it increases the risk.
IV infusion increases the potential for infectious or harmful substances to enter the body. The rapidity of IV infusion can also put an abnormal metabolic burden on the liver and kidneys, which must process the foreign substances being introduced. Experiments also suggest oral antibiotics are as effective as IV antibiotics. Therefore, experts suggest that people be less quick to resort to IV therapy unless truly necessary.
"Three kinds of people favor IV infusion the most: Those who have taken pills for several days with no visible effect yet; parents who push doctors to use IV therapy on their children because of a favorable curative effect in the past; and those who are busy and have stress-filled lives and want 'quick-fix' therapy and a quick recovery," said Guo Shidong, an emergency room doctor at Beijing Children's Hospital.
Although many patients push for IVs, other patients complain doctors recommend IV infusion regardless what kind of illness they have.
"The heavy use of IV therapy is absolutely abnormal and even ridiculous. Most patients don't actually need it, but IVs are now even frequently recommended by doctors as a means of curing colds. Some hospitals are questioned by patients for their overuse of the IV therapy because of economic profit," said Li Ling, a researcher with the China Center for Economic Research at Peking University.
Deng Haihua, spokesperson of the Chinese Ministry of Health, said this problem should be solved through hospital and medical care reform. "The Ministry of Health will make more efforts to increase regulations on hospital management. It will strengthen fee control and effectively deal with the medication abuse problem," said Deng. He also said the ministry would "give more choices to patients in the future."