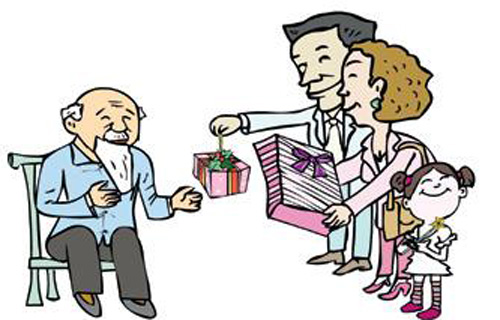 (LI SHIGONG)
Adult children will be required to visit their elderly parents regularly under a proposed amendment to the nation's Law on Protection of the Right and Interests of the Aged, which the National Congress discussed in late June. The draft states that family members should look after their elderly parents both physically and mentally, and should not ignore them. In addition, children who live far away from their elderly parents should pay them regular visits, while employers should ensure these visitors' rights of enjoying necessary holidays and time off.
As for whether it's proper to solve a moral issue in a legal way, debates have been ongoing since it was first proposed last year. The National Congress' discussion this June again made it a big topic. Some people think making it a legal duty for children to visit their elderly parents will encourage children to better fulfill this role. The elderly will therefore receive more emotional comfort, while the positive virtue of respecting the elderly in Chinese culture will also be better inherited and passed on. However, others think it's difficult to judge to what extent the grown-up child is living up to the legal standard and so even if the child is not doing enough, it's not easy to accuse him or her.
Fu Dalin (Beijing Times): Social development in China is dramatically changing the traditional family structure and moral ideas, posing many new problems to the aging Chinese population. By the end of 2011, China had 185 million people over the age of 60. With rapid urbanization, more and more young people are moving into cities or migrating to different places, leaving their parents behind. One consequence is rampant loneliness and disillusionment, which caused added physical and mental problems in a population that is already struggling with chronic illness and senile dementia. There have been many cases of the elderly suing their children for lack of care. In this sense, it's necessary to make "mental and emotional care" a legal duty for the children to fulfill.
Some worry that mandating parental visits will cause embarrassment to their children. Laws are supposed to educate and guide people, apart from compulsory enforcement. In some people's minds, laws are punitive measures to correct a problem. Moral questions here are upgraded into legal issues to be solved through legal punishment.
The draft actually intends to ensure rights and obligations in the form of encouragement. It demands children to pay regular visits to their parents and thereby stress the young people's filial piety at home and overall care for the elderly throughout society. The focus is on education and guidance but not on punishment.
Since the draft means to guide people's behavior, we should have a reasonable expectation for the result of the law enforcement. To write filial piety as a compulsory requirement into law is partly an attempt to meet the lonely elderly people's demand for children's care. To promote filial piety in modern society, we need to do more. The law itself cannot save filial piety from disappearing.
Yang Tao (www.xinhuanet.com): Morality and law cannot always be clearly separated. Some moral obligations need to be ensured through laws. Children will be inspired to better fulfill their duties to their parents if the "visit elderly parents regularly" is written into law. As the older generations find it easier to see their children, the old virtue of filial piety is better preserved.
Taking care of parents is an emotional issue. If children are emotionally close to their parents, no enforcement will be needed. However, if they are unwilling to make the effort, such forced visits will be not only pointless but also uncomfortable for both sides.
In my opinion, the most positive point of this law is to arouse a consensus in society that everyone has a moral responsibility to see their aging parents.
Tong Kezhen (Beijing Daily): Moral power is at the present stage still unable to ensure that children pay regular visits to their aging parents, so it's necessary to use the law to enforce visits. In this way, as children fulfill the obligation to their parents, they are developing a good habit.
More importantly, this positive virtue will manage to survive and continue. When the law demands that children visit their parents, the elderly are given the legal power to require their children to fulfill the legal obligation. Here, the law is used to promote moral standards. Although it is kind of enforced caring, it will at least arouse children's sense of moral responsibility for their parents and make them realize that filial piety is not just a matter of sending money to their parents.