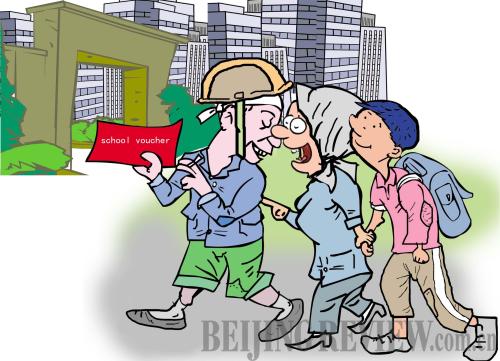 (LI SHIGONG) 
The Ministry of Education recently announced the priorities of its work for 2010. One is to ensure migrant workers' children's access to compulsory education in public schools in their destination cities, and to rescind all extra fees.
In order to realize this aim, the introduction of school vouchers has been proposed.
Teaching resources in China's eastern regions are better than those in the west. Proponents say, if all of the government's education budget is distributed in the form of school vouchers, then school-age children who come from western regions with their migrant parents will be able to receive education in eastern cities.
The concept of "school vouchers" was put forward by Milton Friedman, a Nobel Prize laureate in economics. He suggested that the government convert the education budget into a certain number of vouchers and issue them to students. Students and parents are free to choose schools at different fee levels and, if the vouchers are not enough, they may fill the gap by cash payments from their own pockets. The schools, in turn, exchange the vouchers for cash from the government. More students mean greater education budget allocation. As a result, schools will have to compete for students by improving their educational effectiveness and conditions.
Since they were introduced into China in 2001, school vouchers have been experimented with in several counties in provinces such as Zhejiang, Jiangsu and Hubei. Up until now, greater numbers of educationists have begun to regard "school vouchers" as a fundamental policy of China's education reform as, under this system, students become a kind of consumer and their freedom to choose schools will promote fair competition. As a result, the country's educational resources will then be more fairly distributed. But there is no consensus on whether school vouchers will really be able to bring China's education system to this level.
Not realistic
Wang Xiaojie (Weihai Evening News): The so-called "school vouchers" sound great, but to put them into practice is quite a problem. First, it is a massive job for education authorities to confirm the identity of all migrant workers. Second, it is difficult to decide how long one has to work in a city before his or her children are qualified for the school vouchers. The vouchers can't be supplied just for some but should be for all migrant workers' children. Without restrictive regulations, schools in big cities will become overcrowded and it's possible rural schools might face life-or-death dilemmas.
Tong Dahuan (The Beijing News): Superficially, school vouchers provide every school-age child with the same amount of money, but this is far from educational equality.
Because of historical reasons, there exists a big gap in educational resources between urban and rural areas, between cities and between villages. The government's current priority is to narrow the gap through effective investment. The function of school vouchers actually goes against this goal. This system is unable to realize differentiated inputs, but instead encourages more capital to flow into prestigious schools, widening any educational inequality.
Compulsory education is a way of wealth redistribution and also a way to promote social equality. Its first obligation should be to help the poor and the weak. Distribution of educational resources in the form of school vouchers, however, is unfair.
Xue Zhaofeng (China Business Times): From the perspective of Friedman's theory, an education budget is a certain amount, and school vouchers will help to more effectively and equally distribute the budget. This kind of reasoning is problematic in China.
To work out a budget at various government levels is not a top-down process but a bottom-up process. Various levels put forward their budget demands and report to the upper-level government. In this process, various departments are competing for a bigger budget share. In this way, if grassroots education authorities do not strive for their share, the assumed education budget proposed by Friedman will never eventuate.
Under the school voucher system, no one will be interested in winning budget from the government. Education authorities no longer have the right to allocate the budget; schools, as they are separate, might lose budget to other schools. The result of the vouchers will be to force the government to abandon responsibility for the nation's education.
Xiao Hua (Henan Daily): Migrant workers work in a certain place and get paid, but compared with their contribution to a city, the pay is not enough. The places that receive migrant workers are obligated to create good conditions for their children to go to school. This is also a way for these places to compensate workers.
Migrant workers' destinations are mostly economically developed areas that attract a large number of college graduates born in less developed areas. Now, if the subsidies are transferred from migrants' hometowns to working destinations, is it necessary for cities that receive college graduates to pay back regions that supply students?
Offering equal education opportunities for all school-age children is the government's responsibility and it should be arranged around the country as a whole. Too many restrictions demand unnecessary investment. School vouchers deliberately divide educational resources that should be a whole. In the long run, this will affect the sound development of China's education system.
A good idea