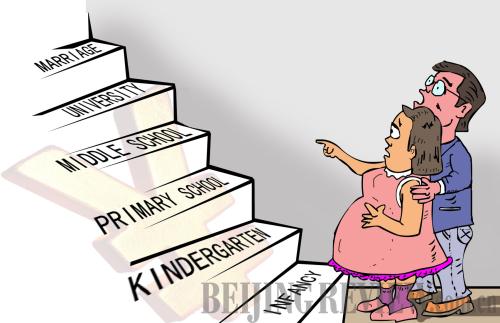 (LI SHIGONG) 
Whether to be a slave to a child and its upbringing is nowadays a hot topic in China.
The term "child's slave" has become omnipresent in cyberspace. It refers to the group of young parents born in the 1980s who have to spend a large part of their income on their children. A survey on www.163.com in December 2009 showed more than 80 percent of young parents feel great strain under the burden of raising a child because of high expenses incurred in paying for child-related upkeep.
To avoid being slaves to their children, young couples' willingness to have children is falling. Statistics say every Chinese woman only has 1.5 children on average. Demographic experts warn that this is a dangerous number. If the birth rate is kept at this level in the near future, China's population will decline 25 percent in 30 years, resulting in the loss of the country's demographic dividend, the consequence of which would be a decrease in the population available to join the work force.
Some people believe it is the young parents' own fault they have become caught up in this problem. These parents pay too much attention to their children and never let them suffer from any pain. For this purpose, they are ready to spend much more than they can afford. Because of unrealistic expectations for their children, they struggle hard all their life to make as much money as possible but gradually they lose themselves and become "slaves."
At the same time, some people believe this situation reflects a serious social problem. Though China's young generation is seeing their income increase continually amid economic boom times, they have housing or car mortgages to pay off, children to raise and old parents to support. The huge burden is not only on a small number of white-collar workers, but quite widespread. The question now is how to relieve them of huge economic pressure and make their lives a little easier.
Merely a Paranoia
Chen Fang (Xi'an Evening News): The cost of raising a child in China is becoming greater and greater. But economic pressure is not the only reason that makes young parents "child's slaves." Their efforts to compete with each other in trying to provide the best possible living conditions for their children should also be blamed.
In order that their offspring do not lose at the starting line, young couples never hesitate to spend money on their children. Retailers know well that young couples only buy the most expensive things for their children but do not care about if what they buy suits their children. Therefore infant and child commodities become increasingly expensive.
To bring up children is not an easy job for parents at any time. But, no matter how times change, it is important to keep one's expenses within the capacity to pay. We know the hardship young couples experience, but it is unnecessary to exaggerate the difficulties facing them. While the emergence of "mortgage slaves" stirs up the concern in the whole of society about mounting housing prices, sensationalizing the pains of "child's slaves" is only amplifying young parents' anxiety.
Children do not come into this world as consuming machines. When parents slip into economic pitfalls because of their own vain mentality and urge to compete in providing abundance, it is unfair to blame their hard lives on their children. It is better to put a stop to unreasonable expenses for children than to feel worried about becoming "child's slaves!"
Liu Li (www.sznews.com): In recent years, parents have taken it for granted that to bring up a child is to offer them better living conditions than others. Since they do not have enough time to spend with children, they hope to compensate for it with expensive commodities. The parents believe money is able to satisfy their children spiritually and materially. Guided by this belief, high expenses for children become increasingly common and as a result, parents reduce themselves to the status of "child's slaves."
Parents should prepare themselves psychologically and physiologically for the arrival of children and, more importantly, they must develop a way of rational consumption.
Huang Chaofeng (xhby.net): The reality is, while we are complaining about the rocketing cost of bringing up a child, most people still have a baby several years following marriage. Daily expenses in China are not so high that they cannot even afford to raise a child. For ordinary people, it is unnecessary to have a baby in the most costly hospitals, feed the child with the most expensive milk powder and enroll him or her into the best rated kindergarten. Piano lessons are not a necessity for every child and a top middle school is not the only choice. Everyone hopes to provide his or her children with the best possible environment for growth, but they don't need to go all out to secure the most-competed for resources for their children. There are many choices.
Zhang Wei (China Youth Daily): Living costs, especially in cities, are becoming a huge pressure for many people. This is the price we have to pay for economic growth. Those who call themselves "child's slaves" are mostly young couples who have just begun an independent life. The huge gap between the rich and the poor and that between their expected success and present terrible state have prompted them to blame all problems and setbacks in life on unfairness and the inequality of society.
When a couple measures the price of childbirth by the cost of milk powder, diapers and school fees and sees this as "slavery," something must be wrong. To have a child and bring him or her up is never an economic issue. To see childbirth as hard labor and connect it with housing and car mortgage loans represent an erroneous attitude toward life.