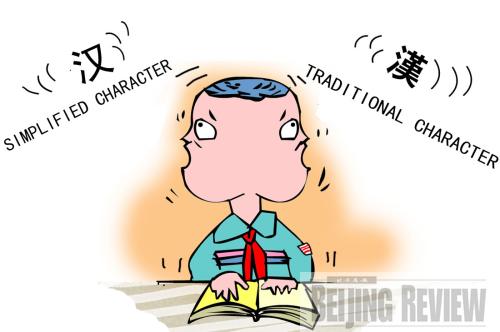 (LI SHIGONG)
In the past few years, a debate has emerged as to whether China should resume the old way of writing Chinese characters to preserve its culture. This year, Pan Qinglin, a member of the National Committee of the Chinese People's Political Consultative Conference, the country's top advisory body, made an aggressive proposal, calling to abolish the use of current simplified Chinese characters within 10 years.
The contemporary Chinese written language has two standard sets of characters—traditional and simplified. The Chinese mainland first introduced simplified characters in 1956, which were created by decreasing the number of strokes to make the writing easier.
Pan listed three reasons for his proposal: First, the simplified characters were too roughly created in the 1950s; second, although traditional characters are a bit complicated to write, nowadays, computers can make the process very simple; and third, the resumption of traditional characters will facilitate the communication between Chinese mainlanders and people in Hong Kong, Macao and Taiwan where traditional characters are being used.
In response to Pan's proposal, officials from the Ministry of Education said that simplified characters were widely used in all sectors of social life and they would not be abolished without legal revisions. Li Yuming, Deputy Director of the State Language Commission, stressed again in August that the government had not considered the overall resumption of traditional characters.
Although the government holds an explicit attitude toward this issue, heated debate among ordinary people, particularly on the Internet, has never faded.
Supporters of the resumption believe that simplified characters are a result of the pursuit of higher efficiency. In order to make characters easier to learn, the use of simplified characters was reasonable during a certain historical period. But the time of handwriting is over, having been replaced by computer keyboards. Now it doesn't matter how difficult Chinese characters are. Besides, traditional characters are more closely connected with history and tradition.
Opponents argue that, if traditional characters are resumed, dictionaries, books and many other things will need to be revised, which will cost huge amounts of manpower and money. Others say that characters are a kind of tool; so as long as they are easy to read and write, it's okay.
Value historical heritage
Wu Shaomin (www.people.com.cn): Characters are expected to vividly reflect the things they represent to the greatest extent possible. In this regard, traditional Chinese characters undoubtedly do better than simplified ones.
Some people argue that as long as they are easy to read and write, any form of characters is okay. Simplified characters make it possible for more people to read Chinese and learn about the Chinese culture. They have contributed a lot to the rapid reduction of illiterate population in the early years of the founding of the People's Republic of China.
When producing new forms of characters, if we gradually lose our valuable traditions, we should feel ashamed as we are losing the excellent civilization our ancestors created for us.
All over the world, many civilizations have disappeared after the disappearance of the characters that recorded their history. Today, we can still find some people who know traditional Chinese characters, but who knows if anyone will be able to recognize them after decades have passed.
Zhang Ruoyu (www.china.com.cn): In the 1950s, in order for people to easily learn, read and write, complicated traditional Chinese characters were simplified. In this campaign, characters were regarded only as a kind of writing tool, with their cultural and historical significance totally neglected. As a result, nowadays, Chinese characters are nothing but a low-grade symbol system. It is a totally different character system. As a result of the "simplification campaign," traditional characters have been discarded and then disappeared from people's lives.
When traditional characters become "antiques," a lot of valuable traditions also become "antiques," such as the art of brush calligraphy. Thus, what we are losing is not only a set of characters, but also the ability to inherit culture.
Wu Jie (www.xinhuanet.com): It is allegedly because traditional Chinese characters are too complicated to read and write that the government decided to simplify the characters in the 1950s. But today we are in the information age. With the help of computer keyboards, complicated traditional characters are no longer an obstacle. Besides, the social and economic development in Hong Kong, Macao and Taiwan shows that traditional characters do not necessarily hinder development at all.
Written characters certainly need to keep up with the times, but they are also the carriers of culture. If future generations are unable to recognize what the former generations wrote, the continuation of culture is impossible.