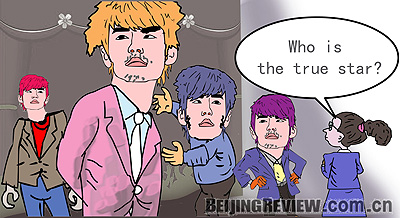 What started off as a term to describe copies of electronic brand products has now moved along the evolutionary road of duplication. Shanzhai, which literally means "mountain village," has come to describe much more in modern China. Now, copying anything that is popular, from cultural activities, songs and movies, to products that have been improved on, can all be referred to as shanzhai. Celebrities look-alikes are included in the phenomenon and often there is an element of parody that accompanies whatever or whoever is being copied.
The birth of shanzhai is seen by many to be the result of lack of creativity. Former TV anchorwoman Ni Ping proposed eliminating shanzhai during the recent session of the Chinese People's Political Consultative Conference. "The fake shanzhai phenomenon will hurt the cultural industry and block cultural creativity," Ni said.
Some others disagree, arguing that it is unfair to label the shanzhai culture as fraud and intellectual property right (IPR) violations, as shanzhai often challenges authority and breaks conventional ideas. Despite its obvious copying of the original, shanzhai is different from pirating because it is done in jest, while pirating is for illegal profits, they say.
Some scholars predict two possible outcomes of the shanzhai culture: it will either die out as people's interests change or grow to symbolize progress in innovation.
Alternative culture
Ou Muhua (Guangzhou Daily): The shanzhai culture has so far stayed at making a mockery of celebrities or pop shows. It is unfair to eliminate such programs just because they are not suitable to those who prefer refined entertainment.
In addition, removing shanzhai will be akin to suppressing cultural diversification. In fact, many artistic works are derived from imitation and improving on the original.
The popularity of shanzhai will help liberalize the minds of artists, and a more open cultural atmosphere will draw audiences in bigger numbers back to entertainment venues.
Guo Qin (Changjiang Daily): In fact, imitation and mockery of popular movies or pop shows were around before the word shanzhai was coined. Why are artists worrying about losing the core of their modern culture, when they should be looking more closely at the bleak picture of their so-called artistic performances.
Shanzhai is an essential form of public entertainment. Throughout history, culture as it applies to the public has long coexisted with the culture of the elite section of society. By introducing shanzhai as an alternative form of culture, this balance won't change. But shanzhai that violates IPR rules, however, must be punished by law.
Sun Weiguo (Guangming Daily): Shanzhai, as a grassroots culture, was well received among the public once it appeared. With the advent of the Internet, almost overnight, large groups of netizens with cyber identities have been chatting anonymously and sharing various ideas online, which helps to spread the concept of shanzhai. By parodying the culture of the elite, those who advocate shanzhai are merely using it as an outlet to release the stress of daily life. In this sense, shanzhai has become a natural phenomenon that reflects an evolution of public opinion.
Xie Xizhang (People's Daily Overseas Edition): The distribution of cultural resources is not balanced in society, since the minority controls the production and consumption habits of cultural events for the majority. But the advent of shanzhai challenges this conventional concept, reflecting the strong desire of common people to be more involved in the process of cultural activities rather than just being passive consumers. This initiative that started on the Internet has snowballed and now has a big following. Shanzhai is inherently inferior to established cultural norms, because it does not have a major resource base, but it still deserves to be viewed on its merits before being dismissed.
Creativity buster
Jin Tian (Tianjin Daily): Supporters of shanzhai are people who want to proactively expand the production and circulation of cultural products, rather than being passive consumers. But the process is tainted by cloning, copying and plagiarizing to produce fake items. Despite its current popularity, shanzhai cannot survive in the long term due to its weak creativity.
Ge Jianxiong (People's Daily): As shanzhai is designed to bring fun to people's lives, it could be allowed to exist as long as it doesn't hurt anyone or violate any law.