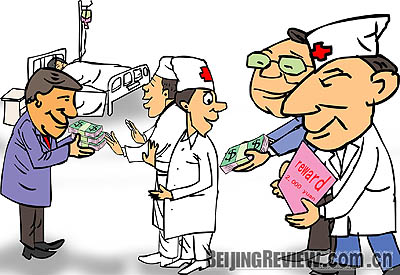 Hongbao is a small red envelope filled with money, traditionally used in Chinese culture by elders during the Spring Festival to hand out money to children. Today, hongbao is also a code word for taking bribes.
On August 22, two doctors in Jinan No.1 People's Hospital, east China's Shandong Province, each received a reward of 1,000 yuan ($143) from the local health authority for refusing to accept hongbao offered by patients.
The refusal occurred after a girl who was seriously injured in a car crash was saved and carefully treated by the two doctors. In order to show the family's gratitude, the girl's father tried three times to give the two doctors money, but they refused on each occasion. Eager to encourage the high professional ethics the two doctors had shown, the municipal health authority praised them by awarding each 1,000 yuan. By doing so, the government means to encourage more doctors to act ethically and not be bribed for work they are being paid to do anyway.
Many believe that, only when patients receive equal treatment regardless whether hongbao is given to doctors or not, will this abnormal phenomenon vanish. Critics say the fundamental reason for the hongbao practice is the slack supervisory system and insist that the only way to eradicate this open bribery is by meting out severe punishment, instead of rewarding doctors to fulfill their obligation.
Apart from the ethical implications, hongbao is adding to the financial pressure most patients are already under, at a time when medical and health cost is very high. The public has long expressed their dissatisfaction with this accepted practice. The government has already taken a number of measures to save the deteriorating patient-doctor relationship resulting from hongbao by announcing that doctors who take bribes will be struck off the doctor roll. In some parts of China, it is announced that those who report this practice to the government can receive a reward worth thousands of yuan, while the doctors concerned will be dismissed. However, despite these kinds of measures, it seems the hongbao tradition is entrenched and likely to die a very slow death in China.
Doctors' duty
Yan Chaoxia (www.ycwb.com): Quite a lot of patients reluctantly offer hongbao to doctors who seemingly want to refuse but eventually accept the stuff. The Jinan Health Bureau means to encourage local doctors to fight against bribery. However, doctors' high professional ethics is by no means built on the basis of rewards.
Doctors must develop professional ethics, but at the same time it's important to set up a strict supervisory mechanism.
If Jinan's local health authority really wanted to break the hongbao system and improve the relationship between patients and doctors, it should focus on regulating the whole sector, make efforts to curb the hongbao phenomenon and step up the establishment of a supervisory and reporting system. It's also important to establish an evaluation system on doctors' professional ethics and skills and awards should be granted to doctors doing well in both aspects.
To save the sick is a doctor's duty, so why does the health bureau give money to those who refuse to take it from patients? Does the health bureau intend to keep on doing this? It actually reflects poorly on the local health authority's simplified thinking in dealing with such issues.
Lu Zhijian (www.dzwww.com): The refusal to patients' hongbao deserves praise, but will it help to use one method of seduction to resolve another? Before surgical operations, patients usually offer hongbao in order that doctors do the work more carefully. Admittedly, we all expect a doctor would refuse hongbao or to submit it to the hospital. If doing one's duty is connected with a money reward, it means the more hongbao doctors hand over to the hospital, the more rewards they will get. In this way, it's quite possible that doctors will happily accept hongbao and then submit them to the hospital, knowing they will get a reward anyway. This is still unethical.