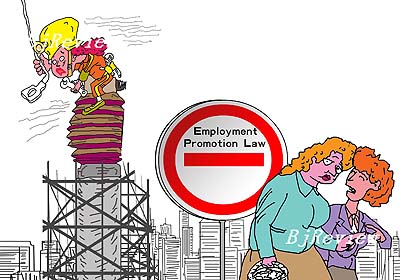 Chinese employers could be brought to court by their employees from next year if they discriminate against female job seekers under the new Employment Promotion Law. Except for jobs in mines, lumbering, installation and removal of scaffolding and other posts that are considered unsuitable for women, employers should not refuse female workers without legitimate cause, said a senior labor official, adding that more practical regulations will soon be defined to ensure equal opportunities for female workers.
According to Zhang Xiaojian, Vice Minister of Labor and Social Security, once the new law takes effect in next January, his department will press ahead with its implementation to prohibit job discrimination and punish violators. He added that the incoming Employment Promotion Law also allows employees to resort to labor arbitration or even sue their employers for job discrimination.
The quick release of job promotion statutes and Zhang's decisive tone at interviews can be explained by China's strained job market. An early survey on this move held jointly by China Youth Daily and Tencent.com, a leading Chinese networking portal, revealed that, among the 6,106 polled, 66.5 percent of respondents said there is job discrimination between different genders. Another 44 percent agreed it is more difficult for women to find a job than men. And 56 percent liked the idea of identifying occupations unfit for female workers, because employers then have no more legitimate excuse to reject female applicants.
But 42 percent of the polled worried that the listing of unfit jobs would further reduce job opportunities for female workers, and another 47 percent said this listing might become a hurdle for women job seekers.
Discrimination against female workers has many guises in the job market. Sometimes, employers openly say they don't want female or prefer male applicants. Or through eliminating female applicants at initial stages of competition, firing pregnant women or transferring them to jobs with severe working conditions, women are forced to quit.
Professor Liu Shen at China University of Political Science and Law said major excuses for turning down female workers are the need employers have for frequent business trips and extra working hours. He agrees that this legal specification on unsuitable jobs for women will help ensure employment equity. "Employers will have to accept female workers, if the job categories are acceptable by law," said Liu.
Some opposing voices have been heard, saying the government should improve the employment climate and provide more job opportunities, instead of listing job categories. Employees can decide for themselves whether a job is suitable.
Chang Kai, head of the Institute of Labor Relations, Beijing-based Renmin University of China, explained that jobs thought to be unsuitable for women are those seen as harmful or even life threatening, like dangerous work in underground mines or on the scaffolding at building sites. A legal framework determining job categories won't reduce the range of employment options for women, but will be helpful for resolving the issue of gender discrimination.
Lawyers respond more cautiously, with many saying that if stipulations are not precise enough, it is very likely to trigger more confusion, or even lead to the opposite of what is intended. Some encourage more opinions from women, who are after all the ones involved in this issue.
Women need a break
Zhang Tianwei (Beijing Youth Daily): It seems that the listing of unfit jobs for women goes against the principle of protecting their rights for equal employment. But China's present job market is helpless to curb gender discrimination, when employers use "unsuitable for women" as an excuse not to hire them. Therefore, a detailed list of jobs would do away with this excuse.
Usually, there may be two reasons for this discrimination. Women are physically and psychologically different from men. Most employers will opt for male labor rather than female to avoid the time and cost attributed to women and their family/child obligations, in addition to the over supply of male labor in the market.
Zhang Guifeng (Dazhong Daily): As a much-talked about issue today, the significant principle of gender equity is included in the Constitution, which stipulates that Chinese women are politically, economically and culturally equal with men. They also enjoy the same rights in social and family life.