Give care, not hugs
Zhang Guoju (www.hebei.com.cn): It is the wish to break down barriers between people and remove the indifference in society that has encouraged people to launch the "free hug" campaign. By doing so, they hope to create a sincere, close and warm relationship among people. Apart from the campaign members, I think many people cherish this dream.
Nevertheless, one important point is neglected here, that is, to give free hugs is not a proper behavior in China. As we know, typical Chinese ways of greeting are a handshake and nodding. Unlike Westerners, in China, even family members are reluctant to hug each other, let alone strangers. People just feel uneasy to be greeted by hugs on the streets.
More importantly, people seem to have got used to indifference, so one or two hugs are unable to topple the solid fence of indifference. Given the fact that sometimes kindness and amity are taken advantage of by unscrupulous people, schools especially warn students not to speak to strangers. Probably, it has gone too far, but it implies how important it is to keep alert when mixing with strangers. In this situation, how many people are ready to accept hugs from strangers?
We need your care but not your hugs! To encourage good interpersonal relationship does not depend simply on hugs, but it demands wisdom and tactics and proper methods. Otherwise, it's no surprise that even good motives will be misunderstood.
Qiao Taiping (www.gmw.cn): Hand- shakes, nodding and smiles are common ways of greeting in China and hug is a Western custom. With more and more cross-cultural communication, hugs are seen on some important and special occasions in China, as an expression of amity. However, to ask for hugs from strangers seems abrupt and eccentric.
What is the tangible significance of free hugs in the streets? We can't imagine that a cold person or someone under stress will show any interest in a stranger's hugs. I suggest that "free hug" campaigners show their care and love to their families, friends, colleagues and those who are in real need. Why not do something more tangible, such as taking part in volunteer or charity activities, cleaning the cities, offering assistance to poor students and giving comfort to the old in nursing homes? I think this will help people to feel much warmer than hugs.
Jiang Wenzhao (www.gmw.cn): Quite a lot of factors are responsible for the cold interpersonal relationships among people today, so it seems too naïve to take it for granted that free hugs between strangers in the streets will remove the indifference and invisible fences. Apart from profound social reasons, there are also various individual factors. Therefore, to improve interpersonal relations, the whole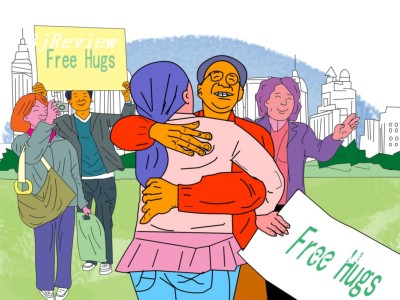 social environment and social values need to be improved. In addition, various inharmonious factors in one's personal life should also be taken into consideration.
We admit that the motive that drives the campaign members to throw arms round strangers is good, but their campaign is just a simple copy of a Western fashion. Given the different cultural background, the effect of this campaign is doubtable.
Guo Ran (Nanfang Daily): The cuddle party claims that free hugs will help to rid people of depression and brighten up their lives. As one of the many body languages and an expression of affection, care and compassion, a hug is capable of stimulating the sense of caring. Because of this, the campaign is labeled an "enlightenment movement," which means hugs will break the ice in people's heart and enlightened participants will become "kind angels" to spread love.
The "free hug" campaign points at such social diseases as lack of trust and interpersonal indifference, but the "medicine" it uses to cure this "disease" seems inappropriate.
As an old saying goes: Cats hide their claws. To be frank, unexpected hugs will frighten me instead of filling me with warmth. To cure this social apathy is a mission too formidable to be fulfilled by the "free hug" campaign. Probably some participants do believe hugs can help break down barriers, but in the streets, are they doing what they really want to do? Will their daily life be improved as a result of the campaign? Perhaps not.