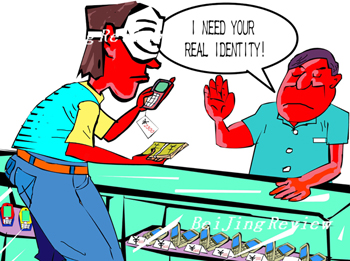 The days of Chinese consumers getting mobile service without having to register with their real names are numbered. The Ministry of Information Industry (MII) has announced that in order to become cell phone subscribers, people will soon have to register with their ID cards. Detailed regulations are expected to be promulgated by the end of the year.
Yi Mingyu, consulting director of the CCID Group, a Beijing-based IT service provider, warned subscribers, who have to provide their identity card at registration, could be turned away by the complicated procedure to start the service, resulting in a loss of business on the part of mobile service providers.
Despite the inconvenience and rise in operational costs, Yi stressed that the real name system will fundamentally be beneficial to users. "We know that a large sum of money has been embezzled simply by fraudulent text messages, and the registration of real names will be a great help to control such crimes."
Yi suggested a gradual phasing in of real name registration, starting first with account holders and then the pre-paid customers. "Though the transition period would bring higher financial costs to both operators and users, in the long run it will be helpful to regulate the market," said Yi.
Insiders predict that by knowing who their customers are, service providers will be able to reduce the rate of overdue subscriptions and also tailor-make service programs better suited to the customers' needs
The number of China's mobile phone users has surged up to 400 million according to latest statistics of the MII. Of this total, more than half are unidentified. Following the practice of South Korea, Thailand, Australia, Japan and South Africa where the subscribers have to show their ID before purchasing either mobile phones or phone cards, the registration system has proved to be helpful in a wide range of social issues, from antiterror and tracking criminals to curbing message spams.
Those opposed to the usage of a real name system argue against its effectiveness on curbing crimes and doubted the confidentiality of personal information of the clients.
Knowing who you are helps
Chen Jinqiao (assistant chief engineer of the Chinese Academy of Telecom-munications Research under the MII): Some ambivalent users are not totally against the new system but worried about the side effects of such registration, for instance the abuse of giving customer information away or the possible rise in costs for mobile service operators. There is no use panicking over these problems when we could adopt other supplementary measures to resolve them.
It needs time to promote the real name system. Look at it as four stages: First, to get everything ready, which means we will weigh up the advantages and disadvantages and then decide the way in which to best benefit our customers and reduce management risks. The operators should know where their obligations and market potential exists. Second, is the software and hardware improvements. The service providers should keep adjusting the system based on reactions and suggestions solicited from their customers. Third, would be a transitional period to monitor the safety of streamlining the registration procedure. During this period, it is important to differentiate the new users from the ones that need to be reregistered. Also, the gap between different regions and cities should be factored in, perhaps by setting specific deadlines for different regions before full implementation. Fourth is testing. The problems found should be assessed and adjusted. It won't cause much dispute if the procedure is clearly defined and effectively carried out.
Ye Lin (professor at the Renmin University of China): In my eyes, a moderate release of one's personal information does not necessarily mean infringements upon the consumer's privacy. Think about registering to rent an apartment, you should also provide ID. The real name for cell phone users may add more procedures initially, but it should be a reasonable service cost that subscribers could afford. If we just think about controlling costs to oversimplify the registration procedure, we might face more future problems.
Clients willing to provide operators their personal information show their trust, and in return the service providers should do the same. Disputes do not stem from the real name registration but the abuse of the individual's information that could cause trouble for the users. Perhaps the ruling department could also give some consideration to this.
Xiong Peiyun (Oriental Morning Post): I don't agree with people who say that the real name registration for mobile phone users will affect our communication freedom. Countries from every continent, including the United States, Britain, France, Australia, South Korea, Japan, Singapore and South Africa, all require that cell phone users register their names. Are people in these countries blocked from communicating? If so, why don't they protest? Obviously, the real name system doesn't affect their lives at all.
As a matter of fact, we notice that those committing crimes through disseminating harmful information online, under the disguise of false names, are apprehended by the net police. In other words, the false names actually contribute more to social disorder, rather than create problems for free communication. On the contrary, a society that has true freedom of expression should allow free communication under real names.
Hu Jian (China Youth Daily): The public policy of real name registration will influence a nation with such a large number of mobile phone users, so furious debates over the policy is inevitable. This could show the raised awareness of our citizens, it also reflects the changing concept of government administration. Junk and illegal messages are not the only targets; the ultimate goal is to test the justice of the policy.
As a public policy, it should be necessary. The real name registration for cell phone users, though not yet entrenched in law, at least does not go against the principles of legislation. On the other hand, without other effective ways to curb illegal and trash spams and avoid message fraud, it is the right time for us to put the real name system on trial. The only concern for me is how to balance administrative power and the individual rights of each user?
Chen Jieren (Nanfang Daily): As we all know, telecom companies who ask for registration of their clients aim at providing a better service and more efficient management of the business. Take commercial banks for example. They often require the people who want to open an account to give their real identity for future inquiries. Of course, all this personal information of clients is protected by confidentiality agreements, which are not be seen by others. Yet, seldom do any clients complain that the real name registration in the banking system has impinged on their privacy.
Actually, most phone users in the United States have to provide their identity when buying a phone. However, few of them feel worried as they are satisfied with the mature confidential system.
Essentially, it is not the registration that challenges the freedom of information and telecommunication.
Keep it private
Yang Tao (People's Daily Online): We are surrounded by the requirements of various credibility systems as society advances. But we are wondering what will be the facilitating measures to protect our privacy from being intruded upon.
The expansion of administrative power will of course reduce the individual rights and should be well managed. The phone number, real name and identity card are private things not available to the public. Unless permitted by the citizens, nobody else has the right to disclose it to the public. Before bringing in a real name registration system, the policymakers should first think of how to protect customer privacy over telecom operators and the sales agents where phone users have to register.
Also, we are calling for the telecom operators, sales agents and government departments to be self-disciplined in protecting the privacy of individuals.
Ou Muhua (Yanzhao Metropolis Daily): The success of anti-spam on pornographic and fraudulent messages in foreign countries requires a self-disciplined telecom industry. The real name system is not for the service providers to escape from the accountability to protect customers' privacy, but to better serve more customers.
As common people, we doubt the benefits for the public of such a system and feel it hard to accept. Maybe the telecom operators are finding excuses for their inefficiency in message management and supervision.
The real name registration should be aimed at an expansion of business scope, such as online banking systems, or paying bills by cell phones, instead of curbing phone-related crimes. It is similarly ridiculous for police officers to force consumers who buy knives to show their ID in the name of security concerns, as it is for the purchase of mobile phones and cards.
Liu Yikun (hlj.rednet.cn): A survey conducted by a portal website revealed that, 63 percent of the respondents believed the real name system will help in cracking down on text message crimes, while 60 percent of the respondents looked deeper into the privacy issue, and another 37 percent proposed the police eradicate the use of fake identity cards first. It is obvious that not all people agree with the new system, some are even suspicious about the consequences and afraid of having their privacy violated.
Moreover, big telecom companies abide by confidentialities, but not the many small sales agents. You can never be sure what small businesses will do with your information. So the authorization and penalty of such release of customer information is very necessary.
The real name registration of cell phone users is not only way to prevent related crimes, but also to help telecom companies improve their service, ensuring the benefits and interests of customers, while allowing them to accept the registration rule at their own risk.
Xu Lifan (China Youth Daily): The real name registration demands mutual trust between customers and authorities. In Japan and South Korea, the government has made dual rules to keep both sides in line. Meanwhile, investments in renovation and system update also trouble China. It should be commonly recognized that, the costs of telecommunication infrastructure improvement should be shared by the public, authorities and business operators. In this regard, the real name registration system could be of little help.
Note: Opinions used in this column have been gathered from Chinese mass media.