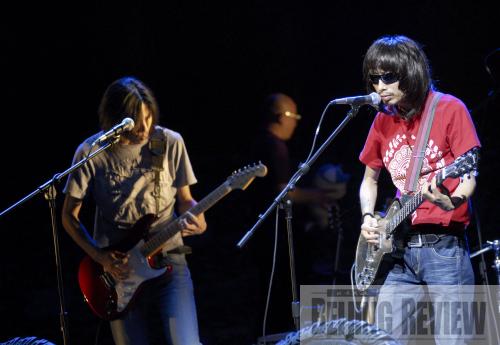 METAL MOVEMENT: Veteran rocker Xie Tianxiao (right) and his band are part of China's growing move toward the thunder of metal (WEI YAO) 
Someone I turn to a lot for direction on Chinese rock music is also an unlikely spokesman for the scene within a music scene that is Chinese heavy metal.
Since first meeting him a few years ago on one of those smoky Friday nights of live rock at the 13 Club in Beijing's Wudaokou university district, I've learned from Yu Yang how Chinese metal fans are most vociferous and loyal as China slowly embraces alternative and rock music.
Yu is the quality control man on a burgeoning Chinese alternative music scene. Even remote Chinese cities today have a proliferation of rock bands. Quality control is only lately kicking in, however. He's also an inspirational character, dressed like a Chinese college lecturer or office worker who built the most comprehensive Web portal there is on Chinese rock, rockinchina.com.
He doesn't dress for his part in a music scene that's as much about appearances as it is about sounding like Western guitar gods. But this multilingual 30-something is encyclopedic as much as he's discerning in his knowledge of the music. His Rockinchina blog turned into a website and a virtual rock n 'roll handbook, created as a labor of love and referenced by everyone interested in local music.
Yu is proud that the best-selling gig in the past year at Star Live, Beijing's top rock club in terms of capacity and facilities, was Lacrimosa, a Swedish symphonic metal outfit, the kind of band unknown to non-connoisseurs. But the band still outsold bigger and more mainstream names that have also booked the venue.
How did he do it? By knowing his audience and selling it hard. It helps that he runs Painkiller, the best-selling but not the only magazine serving China's metal music fans.
The ability to know his audience and muster it for concerts allows Yu to pay the band's travel costs, give the venue its cut, and still take a modest profit.