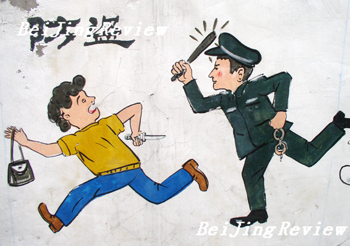 Perhaps the single most reassuring fact about travel in the People's Republic of China is its remarkably low crime rate.
The Ministry of Public Security (MPS), the principal authority of domestic criminal procedures, earlier this year announced a 15 percent decline in violent crime (4.5 million reported cases for 2005), while common property infringement incidents such as theft, fraud and robbery, which account for 80 percent of all cases, rose by only 1 percent.
Cosmopolitan cities such as Beijing and Shanghai, which annually attract tens of millions of overseas visitors on business or holiday, applaud themselves for providing public order and relatively safe city streets where one can walk at just about any hour in relative safety.
But all is not necessarily quiet on the home front. In an uncharacteristically candid public admission, the MPS has reported a pandemic of illicit drug trafficking in China led by an increasing number of foreign crime syndicates, reportedly from the African regimes of Nigeria and Liberia and triads from neighboring Asian countries.
Moreover, violent crime on the southern shore is notoriously rampant in Guangdong, making it the only province in China's mainland to arm police with guns.
Nor is this to say that Westerners are entirely exempt from either being the victim of, or committing, more serious crimes.
I have found myself in several situations while traveling extensively throughout China. I fondly remember the street gang who confronted me in a darkened alley in Inner Mongolia, or facing off with a pickpocket in crowded Qianmen hutong in Beijing with a baying crowd of onlookers taking great delight in watching a 196cm waiguoren vigilante.
Then there was that time in Chongqing. Not exactly heralded as a top tourist destination, the interior municipality of Chongqing, located on the rusty banks of the Yangtz River, uncannily resembles a lawless early-century port-of-call of maritime merchants, hardened dock laborers and waterfront brothels.
An overnight stay in a small hotel on the outskirts of China's largest, and hottest, city, turned into a midnight brawl after a polite request on my part to ask three obviously drunk men loitering in the hallway to settle down, was met with a hostile response.
A push on their part led to a not gentle shove on mine, sending one of the men flying back into his two friends. The next few moments were a feral blur, and for a short time I laudably held my own. But six bare fists can infallibly do more damage than two. The tough guys retreated into the night, leaving me breathless and battered.
The police arrived thereafter and took me to the Public Security Bureau to get a statement. It was determined that the hotel security guards failed to serve their purpose, and it was also found that the hotel did not follow strict municipal protocol in copying the three perpetrators' identification cards before accommodating them, which would have assisted the police in their investigation.
This meant that it was my right under Chinese law to demand an immediate financial settlement from the hotel proprietor—for my troubles, you see—though it hardly made up for the bang up job those inebriated gentlemen did on me.
To be sure, the aforementioned incident is an isolated one, with a great majority of expatriates being lucky, or not, to see so much action during their stay in China ("I was overcharged!" seems to be the leading complaint).
With only one police officer for every thousand residents in a population of 1.3 billion, and more than 40 percent of mainland precincts having fewer than five officers, compounded with a general lack of funding, resources or state-of-the-art technology, China's police ought to be commended for maintaining an impressively low national crime rate.
Let there be no mistake: Xinhua News Agency has reported that there were twice as many reported criminal cases in 2005 than in 1990, and six times that of 1980. But compared to hyper-violent icons of the wild West such as Los Angeles and New York, it is no wonder that China is witnessing an increasing number of foreigners residing in its gleaming municipalities. China remains one of the statistically safest countries to visit, and the rest of the world would do well to take notice.
The author is an American currently backpacking through all of China's provinces.