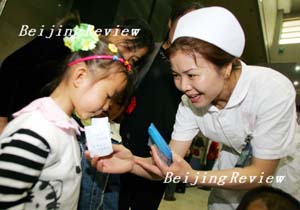 Last fall the British Council held a contest asking people to submit their favorite Beijing sounds as part of a project drawing attention to sound and daily life in the city.
Entries were later posted online, and as I browsed through them, in the first audio file I clicked, there it was. Buried in the usual noises of a bustling street, the backed-up traffic and cries of vendors on bicycle carts, I heard the audible wind-up, like the ripping of Velcro, but deep in the back of a man's throat.
And the pitch, gathering on the tongue, behind the lips, before letting it fly to spatter and ooze on the pavement below.
It was unmistakable. To me, as to whomever made that recording, the sound of Beijing is the sound of spitting.
I tune out most of the city's cacophony-the "hello, hellos," the incessant honking of car horns, the looped megaphone recordings hawking the evening newspaper. But when I hear someone getting ready to hork, my response is Pavlovian. I look to see where it's coming from, and I prepare to get the hell out of the way.
My morning walk to hail a taxi on a nearby main street is a game of dodging the saliva that dots the ground. Sometimes, if someone spits a big gooey one right near, I choke back vomit.
Spitting is a part of China I'll never get used to. I don't know why I feel such a strong, primordial revulsion. Of course I've spat myself, plenty of times--when I was younger, as a cross-country skier I'd cough up frightening amounts of phlegm during a race.
Back home there's always spittle on the ground outside public buildings and subway entrances, near where the smokers stand.
But there's just something about the frequency of public spitting in China, accompanied by the over-the-top sound, sheer volume of saliva due to population density and utter lack of apology, that makes it especially disturbing.
The Chinese characteristic of spitting?
Not if the Beijing Government has its way.
The Capital Ethical and Cultural Development Office has launched a campaign to try to re-train Beijingers in certain social behaviors, such as proper queuing for buses, with spitting cited as the most pressing concern.
It's by no means the first government manners campaign, and attempts have been made to stop the saliva many times before, with particularly strong efforts during the SARS crisis a few years ago. But even then, the spitting ban didn't stick.
Some Beijingers, embarrassed about the image being presented to visitors to the capital, have even launched their own volunteer efforts to raise awareness about the rudeness of public spittle.
With the 2008 Summer Games approaching, there is increasing pressure from on high to present a clean image to the world.
According to a recent Associated Press story, the new official campaign will see volunteers in orange uniforms, with the Chinese character for "mucus" inscribed in yellow on the back, handing out "spit bags." Through media outlets and even mobile phone carriers, the government office will teach people "the right way to spit" (tip--you should spit into a tissue or bag and throw it in the trash).
The volunteers may have striking uniforms, but they've got a tough job ahead.
Stand outdoors in a busy area of Beijing for any length of time, close your eyes, and inevitably you will hear it: the sound of men (mostly, but not always) horking big loogies.
It's one of the biggest shocks for newcomers to the city. When I first arrived in Beijing, I couldn't understand why people spit so much. Where does it all come from? I wondered.
But after a few months of living here, breathing in polluted air that is among the world's worst, I, too, began to find disturbing things emerging from my throat.
I can only imagine the junk in the lungs of your average chain-smoking, Beijing-air-breathing man.
However, I still don't understand the need to let the mucus fly with such great gusto in public places. And to be fair, neither do many residents of Beijing. It's far more common to see older people spitting than young, in particular in the old part of Beijing where I live. Chinese people in their 20s that I know think spitting is disgusting, too.
So will the re-education campaign work for the stubborn senior spitters?
Given the track record of previous attempts, probably not. But then again, local authorities have a knack for public shaming when it comes to personal matters, and the approaching Olympics is a big motivator.
People caught spitting in public currently face a reported fine of $6, though this isn't often enforced. Perhaps if fines are stiffer, or handed out more often, the tide of saliva will recede as it did briefly during SARS.
Regardless of these government campaigns, with a new generation less prone to expelling phlegm in public places, the habit will inevitably become less of a Beijing standard.
Spitting may be a trademark sound of the city, but it's one aspect of old Beijing that I won't be sad to see-or hear-dismantled.
Erin Conway-Smith is a Canadian living in Beijing.