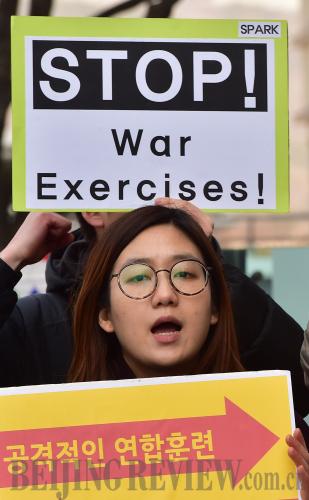 GIVE PEACE A CHANCE: Anti-war activists hold placards during a rally against South Korean-U.S. joint military exercises outside the U.S. embassy in Seoul on March 2 (XINHUA/AFP)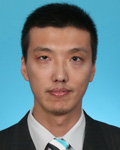 Periodic escalation on the Korean Peninsula has become an annual springtime routine. Each year, along with the routine South Korean-U.S. joint military drill, Pyongyang will respond with its own display including missile launching. Though the situation remains generally stable, the Korean Peninsula is still overshadowed by the dark clouds of the Cold War.
South Korea and the United States kicked off their joint war games, code-named "Key Resolve and Foal Eagle," on March 2, further complicating an already fragile situation.
North Korea denounced the annual military drills as being provocative in nature and capable of "sparking a war." Pyongyang warned that North Korean armed forces were fully ready to hit their designated targets with the strongest measures possible, including all manner of ground, sea, underwater, air and cyber strikes.
At the same time, U.S. Ambassador to South Korea Mark Lippert was injured on
March 5 in an attack by a knife-wielding South Korean assailant who shouted opposition to the ongoing war games. South Korean President Park Geun Hye described the incident as not only a physical attack on the U.S. ambassador but also an "unpardonable attack on the South Korean-U.S. alliance." However, Pyongyang called the attack on the U.S. ambassador a "deserved punishment."
Attempts to break ice
Underlying the palpable tension is the urgent need of North Korea's top leader Kim Jong Un, who has just completed the customary three-year mourning period for his father, to improve the diplomatic environment for his country.
From the beginning of this year, Pyongyang has sent successive signals to Seoul and Washington to the effect that the North Korean Government was willing to work on improving relations, including calling for a "north-south" summit, repatriating some U.S. hostages and offering to declare a moratorium on nuclear testing in exchange for Seoul and Washington's cessation of their joint military drill. Nevertheless, Pyongyang did not receive a very warm response. Seoul and Washington explicitly refused to cancel their joint war games and claimed Pyongyang's proposal carried with it an implicit threat.
According to reports by Russian and South Korean media, Kim will attend a ceremony in Moscow in May to mark the 70th anniversary of victory over Nazi Germany in World War II. A report from Indonesia also claimed that Kim will visit Bandung this April to attend the celebrations in commemoration of the 60th anniversary of the Bandung Conference. These two reports have yet to be confirmed by Pyongyang. If they are true, it means that Kim is presenting himself as a head of state in the international community through multilateral platforms. This begs the question, should the leaders of South Korea and the United States appear together with Kim on those occasions, is it possible that they will allow their relations to thaw through the exchange of a handshake?
The Obama administration normalized its relations with Cuba last year, and had sought to reach an agreement for nuclear talks between Iran and the so-called P5+1 countries (China, Russia, the UK, France, the United States and Germany). These moves have triggered speculation in the international community as to whether or not Washington will also take the initiative in adjusting its policies on North Korea. However, no signs have emerged in the past three months that the Obama administration has any such intentions.
North Korea needs to return to the six-party talks to discuss the prospects of its nuclear program. If it fails to do so, pressure from the international community will continue and will not subside on the basis of a few visits to other countries.
Continued isolation
The U.S. military presence on the Peninsula, the continually strengthened U.S.-Japan-South Korea tripartite alliance as well as the intermittent military clashes between the North and South have all prevented North Korea from focusing on its most pressing domestic task: improving its people's standard of living.
Since taking office three years ago, Kim has focused on consolidating his personal authority, reshuffling personnel, casting out potential dissidents as well as strengthening the country's armed forces. He has also devoted most of his time and energy to the country's livelihood projects. In the meantime, North Korea has relentlessly pursued development of its nuclear program as well as the launching of satellites, and conducted its third nuclear test, a move which has damaged its relations with the international community and posed even more challenges for Kim with regard to turning over a new leaf in his country's development.