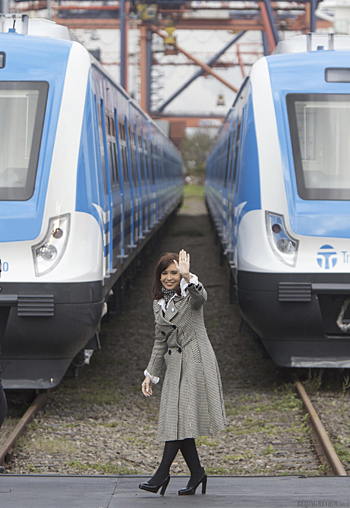 CHINA EXPRESS: Argentine President Cristina Kirchner waves at a ceremony welcoming the arrival of trains imported from China in Buenos Aires on May 22 (XINHUA)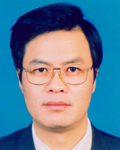 It is commonly taught in schools that Christopher Columbus discovered the Americas in 1492. However, some argue that Columbus was not the first to set foot on this New World—rather, as early as in 1421, Chinese mariner and explorer Zheng He (1371-1433) first arrived on the shores of the Americas.
It's hard to say whether or not the story is true. However, it's certain that China's relationships with Latin American nations have developed at an unprecedented rate in the past decade. Their exchanges in the areas of politics, finance, science and technology, culture, military and non-governmental organizations have made strides along with the fast growth of bilateral trade and investment. Indeed, China-Latin America relations have reached an all-time high.
Latin American advantages
Latin America possesses four strengths that China treasures:
The region can play a role in "building a harmonious world," a vision that China proposed years ago. Latin America and the Caribbean are playing increasingly important parts on today's international stage. These countries have been actively involved in international events while championing principles like independence, friendly coexistence and non-intervention. Moreover, most countries in the region have solid economic and social development foundations and huge development potential. Thus, China can effectively work with them to promote harmony in the world.
Latin America and the Caribbean feature ample resources. Although the Chinese Government has realized the importance of adjusting the nation's economic growth pattern, its demand for external resources will not decrease significantly. In other words, it must continue to import resources to support its rapid economic growth. By solidifying friendly relations with countries in the region and exploring their resources in mutually beneficial cooperation, China also delves into the possibility and necessity of conducting South-South cooperation among developing economies.
The region could present a positive destination for Chinese enterprises' "going-out" strategy. As China's economic strength grows, the country is encouraging Chinese enterprises to directly invest overseas, considering this as an important part of China's national policy and its reform and opening-up strategy. The region that neighbors the United States not only features a huge market, but world-leading technologies as well. It will be of utmost importance to Chinese enterprises' overseas investment strategies.