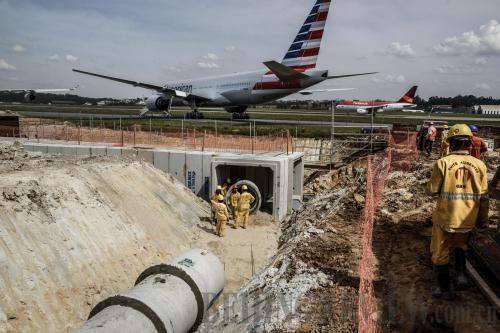 INCREASED CAPACITY: A jet sits on the tarmac nearby as construction continues on Terminals 3 and 4 at the Sao Paulo/Guarulhos Governor Andre Franco Montoro International Airport in Guarulhos, Brazil, on October 21 (CFP)
Since the outbreak of the global financial crisis in 2008, emerging economies, especially the BRICS nations—Brazil, Russia, India, China and South Africa—have become the major engine of global economic growth. Amid these changes, the U.S. Federal Reserve at one point signaled its intention to discontinue the long-running quantitative easing policy midway through the country's economic recovery, but ultimately chose not to. Some BRICS economies including India, Brazil and South Africa are now mired in worsening financial turmoil, with their economic growth rates falling sharply. These developing economies are facing an uphill battle in the ongoing pursuit of structural reform.
Tarnished BRICS
In recent years, the current accounts of India, Brazil and South Africa have been on a path of constant deterioration. These countries are increasingly relying on short-term foreign capital to make their current account deficits look less dismal. With growing expectation of a U.S. liquidity contraction, the direction of global capital flow has reversed. The three countries' currencies are depreciating on a large scale. Since May, the Indian rupee's exchange rate against the dollar hit a series of record lows, exhibiting a trend of currency crises with the depreciation soaring to over 20 percent.
The Brazilian real depreciated to its lowest point in the last four years, with depreciation peaking at 18 percent. The South African rand and Russian ruble's sharpest depreciation reached 14 percent and 7 percent, respectively. Capital flight from India and Brazil once triggered a twin slump in the stock and bond markets, creating a string of financial turbulence. Moreover, poor trade and investment conditions in these countries caused a sharp decline in their economic growth rates, erasing hopes for an economic recovery in the short term. The International Monetary Fund released statistics in July showing that in 2012, the growth rates of China, India, Brazil, Russia and South Africa were 7.8 percent, 3.2 percent, 0.9 percent, 3.4 percent and 2.5 percent respectively, down 1.5, 3.1, 1.8, 0.9 and 1.0 percentage points from the year before. China's economic growth rate has dropped to its lowest point since 1999, while India's has fallen far below its annual average in recent years. In addition, Brazil lost its status as the world's sixth largest economy to Britain.
Now in 2013, the trend of decline among BRICS economies is self-evident. In the second quarter, Russia's economy grew just 1.2 percent more compared to the same period in 2012—its worst performance since 2009. Russia has lowered growth expectations twice in the past four months, from the original 3.6 percent to 1.8 percent. According to statistics released by the Indian Government in early September, growth in the second quarter slid to 4.4 percent—the worst quarterly performance since 2009—due to the country's shrinking mining and processing industries.
International opinion has thus moved toward a belief that BRICS countries have already seen their golden growth period and are now entering a slowdown due to structural problems.
Deep troubles
Caught up in unprecedented prosperity brought on by rapid economic expansion, BRICS countries had little incentive to conduct economic and social reforms during the past 10 years. They neglected or failed to adequately address problems related to economic development, which has slowed the momentum of economic growth. Developed economies, on the other hand, are regaining vigor after five years of painstaking reforms. The West, especially the United States, is once again the engine pushing global economic growth. Now is the time for the BRICS to reflect and begin solving these deep-rooted structural problems in their own economic systems.