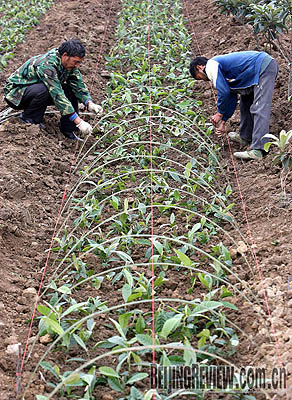 PRIMITIVE FARM: China still needs much work to increase its overall strength
The extravaganza delivered by the Beijing Olympics tends to be described as eye-catching and even amazing in the international media, and has recently stirred a heated debate: What is behind the splendid fireworks?
Some observers believe the Olympics are nothing but a showcase for China's rising strength. But there have appeared some commentaries overstating China's ascendance, like an opinion column published by The New York Times on August 27. Comparing the aging infrastructure in the United States to the modern buildings and transportation in China, Thomas Friedman asks, "Who is living in the third world country?" The article came as Chinese people were still wallowing in national pride and great jubilation, and undoubtedly gained popularity among Chinese readers. But when we get down to it, we cannot help but reflect: Why are people so eager to recognize China's rise?
In the article, Friedman highlights China's spectacular Olympic venues and contrasts New York's outdated La Guardia airport with the brand-new terminals in Beijing and Shanghai, which he says illustrate how quickly China has risen to be a world power. Although he admits, "Yes, if you drive an hour out of Beijing, you meet the vast dirt-poor third world of China," he still intentionally overstated China's splendor and strength while deliberately turning a blind eye to the other side of the picture.
Why? We cannot easily forget the ugly scenes that occurred on the global tour of the Olympic torch relay, and all the despicable means some Western anti-China forces employed to vilify China leading up to the Beijing Olympics. So why have some of them suddenly made a U-turn in their attitudes toward China, and what persuaded them to finally abandon their saber-rattling? For answers, perhaps we need to look to traditional wisdom: Overkill on praise is much more harmful than a violent bar fight.
Former British Prime Minister Tony Blair has warned against overstating China's rise. In an August 26 article in The Wall Street Journal, Blair says China is still on its journey of development, and even though it is advancing rapidly, the country has realized the journey ahead is still long and arduous: "Observers should illuminate the distance to go, by all means, but recognize the distance traveled."
Indeed, China's rise is undeniable from any perspective. Currently, China is an emerging economy with the fastest growth rate in the world, and with the second largest foreign exchange reserves, China is a growing power in the world economic arena. Even so, the rapid rise in economic strength by no means indicates that China has made much headway in its cultural innovation abilities. China still lags behind developed countries in terms of comprehensive national strength.
Therefore, never let the achievements scored so far turn our heads. We should always stay sober and realistic in the face of hyper-praise or hyper-rejection. What especially deserves our attention is that the exaggeration of China's rise can be made with some ulterior motives, and may be allied with the evil intention to overstate the "China threat."
Chinese culture has traditionally advocated peace and harmony, and the Chinese people, like many others living in developing economies, long to be better off and are generally optimistic in their views of the world and the country's prospects. This is the true story of China-a rising economy but always in pursuit of peace-and the true nature of the Chinese people, who are still struggling but are increasingly confident.
The author is a columnist at china.org.cn