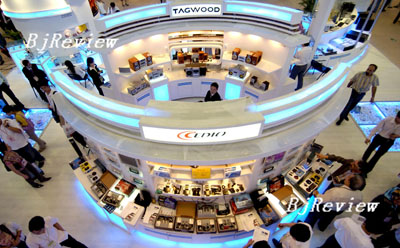 Nicholas R. Lardy, a senior fellow of the Institute for International Economics based in Washington, DC, believes the country's reform and opening-up policy is a key factor leading to its success. He shares his thoughts on problems and prospects of the Chinese economy. Excerpts follow:
China's economy today is 10 times larger than it was in 1978, and continues to grow at 10 percent per year. By contrast, since 1980, roughly the beginning of economic reform in China, up until the end of 2005, the economy of Latin America as a whole had grown 10 percent not per year, but cumulatively. And in comparison with 28 years of 9-10 percent annual growth in China, the growth of India's economy has accelerated to only 6 percent, and only since 1991. The result is that the Chinese economy is now three times that of India, and the gap is growing.
As an indicator of how a few people in China have become fabulously wealthy, in 2003, worldwide sales of Bentley automobiles were 200; 70 of them were sold in China at a price of 2 million yuan, or 250 times the average urban income. The U.S. equivalent would be if 200 people bought those cars at $7.5 million each.
Foreign trade booming
An important aspect of China's reform period economic performance is its foreign trade. China is now the third largest global trader. Its total foreign trade volume in 2005 was $1.4 trillion. In 1978, when reform began, China's total trade was about $20 billion and it was the 30th largest global trader. In the first nine months of 2006, its foreign trade was up by an additional 25 percent. In 2007, China will overtake the United States in terms of exports, and in 2007 or 2008 China is expected to become the second largest trading economy.
Another aspect of China's integration into the world economy is large inflows of foreign direct investment (FDI). Its ranking varies year to year, but China has recently ranked from first to third in this. Cumulative FDI into China is about $650 billion, far more than into any other emerging market economy, even if it opened up to FDI decades before China. Of equal interest, remembering when the China National Offshore Oil Corp., the country's third largest oil producer, tried to buy Unocal in 2005, Chinese companies are starting to invest outside their border. The biggest and most notable successful transaction was Lenovo's purchase of IBM's PC business, which vaulted it into the very top ranks of global PC companies. More recently, China is making substantial investments in natural resources abroad, primarily in petroleum but also in iron ore and other minerals and metals that it is importing. It is investing substantial amounts, especially in Latin America, Africa, the Middle East, and some of the Central Asian republics.
In short, China's "global footprint" has expanded dramatically.
Performance factors
First, in the economic domain, China has become predominantly a market-driven economy. Today, virtually everything in China is sold at a market-determined price. Of course, like any other market economy, the prices of utilities-electric power, water, etc.-are set by regulators.
Second, the markets are very competitive. Having a market may do no good if there's only a single provider of a product or service. Most of the markets are extremely competitive. One reason is the openness of the Chinese economy, the fact that imports are very large relative to the size of the domestic economy. Even in industries with few suppliers, for most buyers there's always the alternative of importing. So the openness of the Chinese economy has been a discipline on domestic prices, most of which have converged toward international prices as a consequence of the high levels of imports. The value of imports in 2005 was equal to 30 percent of gross domestic product (GDP)-a very big percentage. In Japan, for example, imports equal about 10 percent of GDP, while in the United States, it's something like 17 percent.