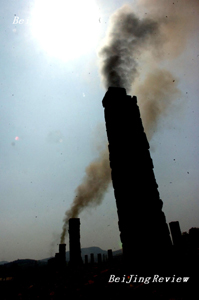 Civilization is the result of human cultural development and also mankind's achievement in both material and spiritual fields in the process of a changing world. It is a symbol of social progress.
So far, human civilization has undergone three phases: the primitive civilization, the agricultural civilization and the industrial civilization. The Industrial Revolution in Great Britain in the 18th century opened the era of modern life, which has endured for 300 years. The major part of civilization is man, who changes nature and reflects on what he has done. From this perspective, civilization can be further divided into three groups. The first is material civilization and spiritual civilization. The second is agricultural civilization and the industrial civilization. The third is that different regions can produce different kinds of civilization, such as the African civilization and the Indian civilization. These three groups can all exist simultaneously.
The industrial civilization that began 300 years ago is characterized by mankind's efforts to conquer nature and the development of global industrialization has pushed the culture based on the conquest of nature to its limit. However, a series of global ecological crises show that the earth can no longer sustain development of this kind and a new pattern of civilization is required for the very existence of humanity—-that is the ecological civilization. Just as the agricultural civilization is called "yellow civilization" and the industrial civilization "black civilization", the ecological civilization is called "green civilization".
Only when man has changed the law of natural ecology and begun to influence nature can civilization come into being.
Ecological civilization is a kind of cultural ethics that aims at the harmonious coexistence between nature and man, society and man and man and man. This civilization targets a virtuous cycle, overall development and sustainable prosperity. Ecological civilization results from man's reflection on the material civilization that has been guiding humanity for so long. As natural materials will eventually run out, material wealth is thus limited, which means we need to liberate ourselves from the endless pursuit of material wealth and regard spiritual and cultural life as a more important pursuit. If this civilization succeeds, fundamental changes will take place in the pattern of society.
First is the change in ethic values. According to Western traditional philosophy, mankind is the most valuable part of the world while nature and other forms of life are targets for our domination and therefore have no value. Therefore, morality is only designed for man and there is no need to act morally towards nature or any other forms of life. This is the philosophical basis for the concept of man ruling nature in the industrial civilization. The ecological civilization, however, believes that value exists in both man and nature; nature is also endowed with the power to take the initiative; and all forms of life depend on nature, including mankind. Therefore, man must respect life and nature, as the earth is home to both.
Second is the change in the mode of production and way of life. In the industrial civilization, from raw materials to castoffs, production is a non-cyclic process and people's lifestyle adheres to the principle of materialism, characterized by high consumption. It is believed that more consumption means a greater contribution to economic development. The ecological civilization, however, aims to create an environmentally-friendly society that is based on the resource capacity, conforms to the law of nature and to the policies of sustainable social, economic and cultural development. People will then lead an energy-saving life characterized by moderate consumption, a demand for basic living standards and the pursuit of a cultural life.
As a new trend, it was thought that an ecological civilization would first appear in developed countries, as it is in those countries that ecological crises first occurred. Nevertheless, this expectation has failed to materialize. One reason is that Western countries are able to relieve themselves from ecological crises by depending on their strong technological and financial capacity. The other reason is that the strong inertia of Western industrial civilization will last for a long time and third is that the Western developed countries are transferring ecological problems to less developed regions. While the Western world is losing the opportunity to develop an ecological civilization, there is a possibility for China to realize a leap-forward in this regard.