A senior educator applauded the educational reform decisions made at the Third Plenary Session of the 18th Central Committee of the Communist Party of China (CPC), commenting that it is refreshing to see how educational disadvantages have been spotted by the Chinese Government and also see there is desire to develop the education system further.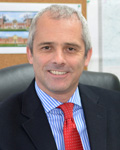 Murray Fowler (COURTESY OF WELLINGTON COLLEGE INTERNATIONAL TIANJIN)
Murray Fowler, Master of Wellington College International Tianjin, told Beijing Review on November 26 that it is positive to see the Chinese Government make attempts equalize educational opportunities between different regions and provinces in the country and to give people equal access to a proper education.
"In terms of disadvantages in the educational system, the Chinese Government has recognized them and clearly wants to do something about them," he said, adding that use of information technology could prove a way to narrow the gap.
Wellington College was established in 1867 in England and is one of the most prestigious schools in the world. The Tianjin branch, opened in August 2011, is the first satellite school that Wellington College has established in China, followed by the Shanghai branch, which is now under construction.
Fowler suggests that China should improve vocational education as some students are not necessarily cut out for tests, but may have other skills to contribute to society.
Decisions made at the Third Plenary Session of the 18th CPC Central Committee also stipulated that China will stop dividing students in high school into those studying humanities or science. Currently, Chinese students have to choose either to go the scientific route or take humanities subjects when taking the college entrance examination, known as the gaokao in Chinese.
Fowler said any reform that encourages students to broaden their skill sets as much as possible can only be a good thing.
"The International Baccalaureate (IB) course offered by Wellington College International Tianjin requires students to learn six subjects," he said. "They learn a bit of everything. You can't just narrow yourself down. That's a bad thing for your future."
Fowler said the most important goal of education is to cultivate people who are resilient and can compete in the complex, and sometimes difficult, world that children will eventually enter into.
"The measure of people is how they cope with adversity. Schools are where students are equipped with that kind of resilience," Fowler concluded.