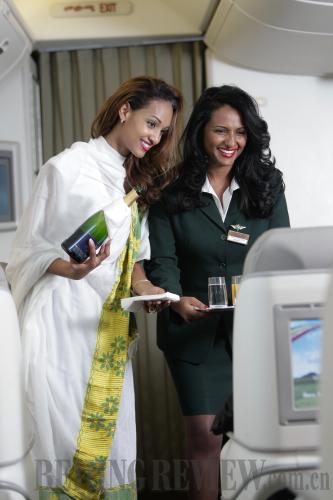 AFRICAN ACCOMMODATIONS: Crew members of Ethiopian Airlines serve guests on board a flight
Ethiopian Airlines is set to roll out flight service to Shanghai next April, said Tewolde Gebremariam, CEO of the African carrier enterprise at a press release held in Beijing on November 7.
2013 marks the 40th anniversary of Ethiopian Airlines' uninterrupted service to China. The airline made its maiden flight to China on February 21, 1973, the first African carrier and the fourth globally to fly to China. Since then, Ethiopian has continued its operations to its key market of China, continuing to be one of the most important destinations for the airline.
As trade, investment and tourism ties between China and Africa increased, so did Ethiopian Airlines' operations. Throughout the years, the enterprise has added Guangzhou, Hangzhou and Hong Kong to serve the growing demands of its passengers. 
Ethiopian Airlines currently operates 28 flights a week to these four destinations in China, the most it flies to any country. It has the youngest and most modern fleet of 61 including the ultra-modern Boeing 787, Boeing 777-200LR and Boeing 777-300ER, which are serving destinations in China. With China-Africa relations at an all-time high and forecast to continue on an upward trajectory, Ethiopian Airlines is continuing to enhance its products and services to cater to the needs of the traveling public by availing the best possible connections between Africa and China.
In addition to connecting passengers traveling for business between Africa and China, it has also enhanced its in-house tour offerings which provide various tourism packages to Ethiopia and the rest of Africa.
The Airlines is now offering passengers packages to introduce the many cultural, historical and natural wonders of Ethiopia, nine of which are registered as UNESCO Heritage Sites. In addition, it is also offering packages for sites in East Africa and leisure destinations such as Seychelles.