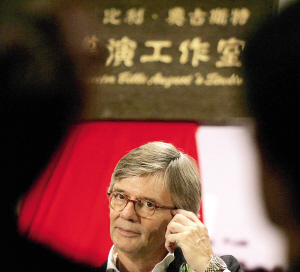 PLOTING A FILM: Bille August, Danish director and winner of Oscar and Golden Palm awards, contributes ideas to Unifying the Country. The film will use 4-D effects to illuminate an ancient Chinese story (HANGZHOU.GOV.CN)
Oscar-winner Danish director Bille August expressed interest in China's first 4-D film during a seminar held recently in Hangzhou, capital of east China's Zhejiang Province.
Filmmakers, scholars and digital theater managers attended the seminar to discuss plot development for Unifying the Country.
The film centers on three heroes--Qian Chu, Zhao Kuangyin and Li Yu--in the surrender of the Wuyue Kingdom to the Song Dynasty (960-1279) in the late 10th century.
Opinions varied over whether to develop the movie as a historical fantasy like the classic novel Romance of the Three Kingdoms or action epic similar to modern film interpretations of the era of the Three Kingdoms (220-280).
When August first heard the gist of the story two years ago, he knew immediately that it would make for a fantastic feature film.
This time he came to Hangzhou to collect materials and get a taste for the city's splendid culture and time-honored history, in addition to discussing the screenplay with the film's producer, Zhejiang Tianpeng Media.
The screenplay has to be refined to be perfect, August said. As for how to present the ancient Chinese story from an international perspective, August said the key to a film lies in a good story and good screenplay to attract audiences.
"The element of human nature has no boundary," August said, adding that the protagonists needed more character development.
August opened a studio at Xixi Wetland National Park in Hangzhou in September 2011 and is art director of Tianpeng.
"4-D" is a marketing term for physical effects synchronized with three-dimensional movies. Motion chairs and smells combine with audio-visual effects to immerse audiences.
Some theaters marketed as 4-D employ 360-degree screens with 12 projection machines operating at the same time to present images as if they are coming from all directions.
(Source: Zhejiang Daily)