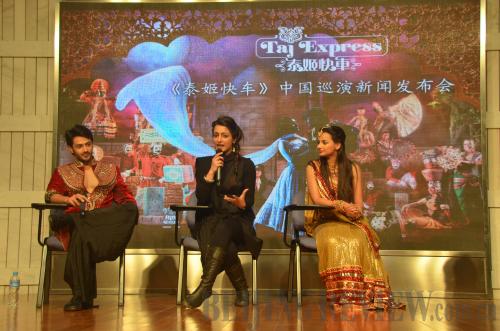 MEETING THE PRESS: Shruti Merchant (middle), producer and director of Taj Express, attends a press conference at the Indian Embassy in Beijing on December 27 (CHEN RAN)
The Bollywood musical Taj Express – Love has a New Address, will descend upon several cities including Xiamen, Wuhan, Zhongshan, Guangzhou, Shanghai and Shenzhen over the next two months.
The love story between a thief and a rich girl onboard a train from Mumbai to the Taj Mahal will be performed in English with a screen containing Chinese subtitles.
According to Shruti Merchant, the musical's producer and director, India and China have a lot in common. Both have a long history and civilization rich in culture. "In India, trains can connect people of different languages. I hope the Chinese audience can enjoy the flavors, the sounds, the costumes and the culture of India through this original musical," she said.
Coming from a Bollywood family of well-known dance choreographers, Merchant has been hooked on dance since childhood. "Three years ago, my mom encouraged me to bring out the best of Bollywood by creating a musical," she recalls.
Merchant's biggest challenge was marketing. "When I contacted theatres, the question I was always asked was, 'A Bollywood musical? Never heard of it,'" she told Beijing Review.
But fortunately her efforts paid off. Tai Express' debut in India in July last year and its world premiere in Singapore this year received solid reviews. Moreover, the musical's first four shows in Nanchang, east China's Jiangxi Province and Haikou, south China's Hainan Province, were "fantastic," said Merchant, and the audience "even cried at the end."
Love may have a new address. For Merchant, "The new address is China."