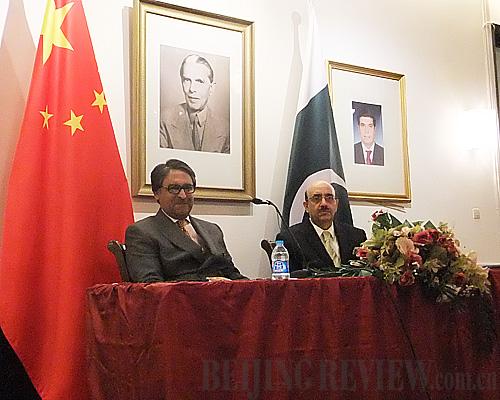 MEETING THE PRESS: Jalil Abbas Jillani (left), visiting Pakistani Foreign Secretary, and Masood Khan, Ambassador of Pakistan to China, are answering questions from Chinese media at the Embassy of Pakistan in Beijing on November 1 (PAN SHUANGQIN)
New development projects will be discussed at the Pakistan-China Strategic Dialogue in Beijing from November 1-2.
"Pakistan and China have very close relations and both countries have convergence of views on all regional and international issues," said Pakistani Foreign Secretary Jalil Abbas Jilani at a press conference at the Pakistani Embassy in Beijing on November 1. "These relations are unmatched."
He added that Pakistan is deeply appreciative of China's constant support for major domestic infrastructure and development projects and hopes that bilateral economic and trade cooperation will continue to solidify.
The dialogues are held every year. Both sides in the meeting will discuss the implementation of various projects that had been signed concerning science, technology, energy, infrastructure, communications and culture, in addition to regional and international security, Jilani noted.
Concerning the upcoming 18th National Congress of the Communist Party of China (CPC), Jilani said Pakistani President Asif Ali Zardari and Prime Minister Raja Pervaiz Ashraf had conveyed their best wishes to the new leadership during meetings with Li Changchun, a member of the Standing Committee of the Political Bureau of the CPC Central Committee, who visited Pakistan on October 17.
Jilani expressed determination that with the induction of new leadership China will continue its march towards progress and prosperity.