LARGE MEDIUM: The Old Beijing Gets Moving recreates Wang Daguan's painting A Round Glancing of Old Beijing. The multimedia presentation is 228 meters long and 3 meters tall (OLDBEIJINGSHOW.COM)
A massive computer-rendered animation of cell-shaded Beijingers strolling through the streets and going about their daily activities across a panoramic watercolor landscape of hutongs, operas, shops, restaurants and dwellings, provided guiding illustration to visitors at the Salon of Innovation and Development of Cultural and Creative Industry in Beijing at the National Exhibition Center on December 13.
The multimedia exhibit The Old Beijing Gets Moving is a re-presentation of Wang Daguan's A Round Glancing of Old Beijing. The original work, a 30-meter painted scroll, was also on display. The multimedia version wound around the walls of the exhibition center with seamless transitions between each projection unit, producing a 228-meter-long, 3-meter-tall slice of life, like a veritable living Bayeaux Tapestry of Old Beijing during the 1930s.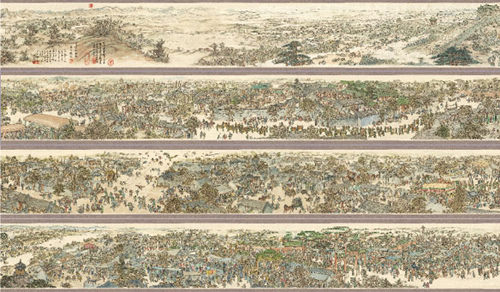 TAPESTRY OF HISTORY: The painting, A Round Glancing of Old Beijing provides a panoramic view of many of Beijing's traditional features during the 1930s (OLDBEIJINGSHOW.COM)
The group responsible for the multimedia exhibit also produced Riverside Scene in the Tomb-Sweeping Day at the Chinese Pavilion of the 2010 Shanghai World Expo. The Old Beijing Gets Moving was produced by Beijing Longbien Cultural Development Co., Ltd.
Various tools and handicrafts from that era were also on display, labeled with the jargon that peddlers might have used to hawk such wares. Outside the exhibit, a collage of hutong street signs greeted onlookers. A group of actors also gave traditional performances, including poetry recitations and cross-talk, a two-person comedic routine.
The goal of the Salon is to promote the development of creative culture in Beijing. Representatives of interactive social media companies Kylin Games and ELEX presented some of the newest in interactive games, such as Genghis Khan for iOS and Android mobile platforms and Happy Harvest on Facebook, Renren, and other social media platforms, inviting guests to play on laptops at on wooden tables and benches reminiscent of Beijing teahouses.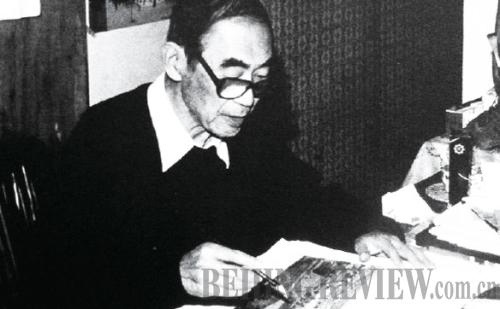 OLD MASTER: A photo of Wang Daguan (1925-1997), a Beijing native of the Hui ethnic group, who painted A Round Glancing of Old Beijing (OLDBEIJINGSHOW.COM)
"The government is trying to promote cultural engagement and exchange," said Stevan Tao, a guest at the exhibition, "but it is not specific." Tao was impressed by the depictions of Old Beijing scenery, "but real meaningful cultural exchange must go beyond that. Reaching out must be on a deeper level."