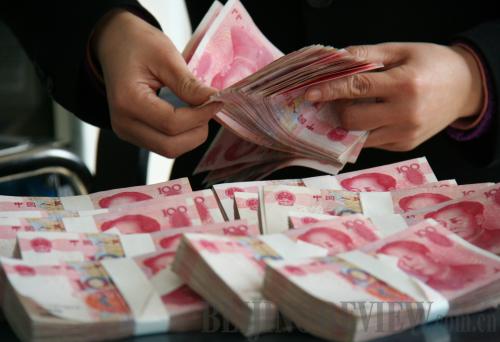 A bank teller counts bills at a bank in the city of Linyi in east China's Shandong Province on December 30, 2010. The People's Bank of China announced February 8 that it would raise one-year benchmark borrowing and lending rates by 25 basis points starting from February 9 (ZHANG CHUNLEI) 
The People's Bank of China (PBOC), the central bank, announced an increase in national interest rates on the final day of the week-long Spring Festival holiday on February 8. Economists across China predicted that the bank would increase rates around the time of the holiday.
The central bank said it would raise one-year benchmark borrowing and lending rates by 25 basis points beginning from February 9. After the hikes, the one-year benchmark deposit interest rate will climb to 3 percent, while the one-year loan interest rate will reach 6.06 percent.
Aiming to tame inflation
Economists believe that the increased interest rates are necessary as part of a charge to reduce inflation as the Chinese economy continues to grow.
In an interview with finance.eastmoney.com, independent Shanghai economist Andy Xie said that last year's gross domestic product (GDP) growth, which exceeded 8 percent, is a sign that increased interest rates will not prevent the economy from growing further, despite the fact that rate hikes since last year also led to increased financial costs for corporations.
"This particular rate hike is based on three factors," said Li Daokui, a member of the central bank's Monetary Policy Committee and a professor at Tsinghua University, in an interview with the Chongqing Daily.
According to Li, the increased rates are expected to readjust inflation expectations, since price hikes during the Spring Festival would lead to a higher consumer price index (CPI). Li said the hikes will help the central bank to utilize other monetary policies, and also indicate that the central bank is willing to make gradual changes to the way it regulates the market.
"The CPI for February and March this year is expected to reach 5 percent, or even break through to 6 percent. The rate rise will help to contain the real estate bubble and force housing prices down to reasonable levels," said Guo Tianyong, Director of the Research Center of China's Banking Industry at the Central University of Finance and Economics in an interview with the Beijing Times.
However, the rate increases demonstrate that China will still face serious inflation problems in the future.
"If the central bank didn't raise the interest rate, many economic and social problems would have occurred," said economist Han Zhiguo.
Impact on real estate
Xie said the hikes are just after a series of policies this year designed to control housing prices across China. Housing markets in first-tier cities have already begun to decline, according to Xie. He added that it will take at least three years to fully readjust prices.
Zhang Dawei, head of the tertiary market research department of Beijing Centaline Property Agency Ltd., said that the accumulated costs of interest rate increases from last year created an analogous rise in property investment costs. Zhang added that loan supplies will decline in 2011 as a result of the rate hikes.
Influence on the stock market
Investors may be hit hardest by the rate hikes, according to Xie. Capital liquidity will be tightened, and control over the property market will continue to become more strict, he added.
However, Li Daxiao, head of the research institute at Shenzhen-based Yingda Securities, said that a rise in interest rates doesn't necessarily translate to bad news for the stock market.
"Although it will certainly result in a hit for the stock market, it will not ultimately change the market pattern for the entire year. Shares held by banks will have a 'defensive capability,' and will not be hit too hard," Li said in an interview with the National Business Daily.
"The stock market actually has an opportunity to rise, since stocks with a large market capitalization can be had for lower prices," Li said.
More increases possible
Li also believes that the central bank may raise interest rates in the first six months of 2011, but said that since the central bank's overall monetary policy is still loose, the possibility of hyperinflation is much smaller.
Lu Zhengwei, chief economist at Industrial Bank Co. Ltd, echoed Li's view, saying that interest rate increases will become a common control measure for the central bank as a means to prevent inflation over the next year or so. Lu expects another three or four interest rate increases in 2011.