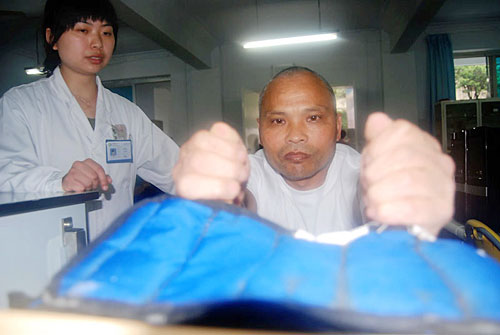 Deng Yihu (right) does upper limb rehabilitation training under the guidance of a doctor at Sichuan People's Hospital in Chengdu, capital city of Sichuan Province, on May 10 (CHEN RAN)
Deng Yihu, 52, a farmer from Sichuan Province, boarded a flight for the first time under critical circumstances. On May 20, 2008, eight days after the devastating 8.0-magnitude earthquake hit his hometown, the seriously-injured Deng was transferred by a special charter flight to Guangzhou, capital city of Guangdong Province, some 1,390 km away from his home, for better medical treatment. He returned to Chengdu, capital city of Sichuan Province, on August 1, where today he continues his free rehabilitation treatment at Sichuan People's Hospital.
Reviewing his rehabilitation process, from lying in bed to using a wheelchair, Deng said he felt lucky to have so much love.
We are family
Coming from a poor farming family, Deng, the first of five children, lives in Yangping Village, a remote mountainous area in Xiaoyudong Township of Pengzhou City. After finishing the second year of primary school he dropped out due to lack of money, and has been farming since then.
He was picking herbs with friends on a nearby mountain when the earthquake occurred at 2:28 p.m. on May 12, 2008. One of his friends was buried in the sudden hillside collapse and died on the spot; Deng found he couldn't move as falling rocks crushed his spine. Worse still, the earthquake had disrupted transportation networks. He was finally transferred to Sichuan People's Hospital some 20 hours later for emergency surgery.
"To be honest, I thought I was not seriously injured and never thought about paraplegia while I was waiting for rescuers," Deng recalled. "I especially thank my friends who stayed by my side and took care of me all the way to the hospital. They saved my life!"
Injured quake survivors flooded area hospitals--Sichuan People's Hospital alone received 697 on May 12. At a disaster relief work meeting on May 17, Chinese President Hu Jintao called for all-out efforts to save and treat injured survivors, urging that they be transferred to hospitals with better conditions. As a result, Deng, escorted by his son, boarded his first plane ever with 31 other injured quake survivors.
At the branch hospital of Guangdong Hospital of Traditional Chinese Medicine in Guangzhou, Deng underwent surgery on his back and legs. Moreover, he was introduced to a local couple as part of a "loving family" project launched by the local women's federation.
"Every week they came to visit me, with daily necessities I needed. I'm the first child of my family who always takes care of younger siblings. They treated me so kindly that I regarded them as my own elder brother and sister-in-law," Deng told Beijing Review.
Deng stayed in the hospital 15 days longer than the others due to his worse physical condition. Upon leaving Guangzhou for Chengdu, he received a free wheelchair from the hospital; his doctor escorted him all the way home.
A long way to rehabilitation
Deng was directly transferred to Sichuan People's Hospital upon arriving in Chengdu on August 1 for further treatment.
Deng's rehabilitation focused on bladder and bowel management, but it was difficult for him to accept that he would never be able to sit up or walk again. Worse still, he felt frustrated by the chronic sacral pressure sores.
"I had a bad temper at the time, and often shouted at the medical staff. But they did not blame me and tried hard to encourage me to be positive during rehabilitation," Deng said. "The psychologist also gave me suggestions whenever I needed them."
Fortunately, miracles happened, as Deng learned to control his urination; after lying in bed for six months, he was able to sit in a wheelchair. As a reward, his doctors granted him a surprise 20-day vacation so he could celebrate Spring Festival with his family.
With a better temper and a more positive attitude, Deng tried his best to follow the rehabilitation program. On April 18, he got another surprise when his "loving family" in Guangzhou paid him a visit, which cheered him up.
"The quake has caused me great physical pain, but I do feel love all around me," Deng said. "I haven't spent a dime since the quake, since the government has covered everything. Otherwise, how could I have paid the 300,000 yuan ($42,000) in hospital fees in Guangzhou? The support from the country, from the government down to the people, brings me courage and a sense of security."
Currently, Deng leads a comfortable life at Sichuan People's Hospital with his wife by his side. He spends most of his energy on rehabilitating his upper limbs, playing table tennis and chess with other injured quake survivors.
"I am lucky enough to survive the quake and totally agree with what my doctor has told me--that I should live as best as I can," he said. "My biggest hope is to cure the sacral pressure sores as soon as possible and rehabilitate as best as I can."
(Reporting from Chengdu)