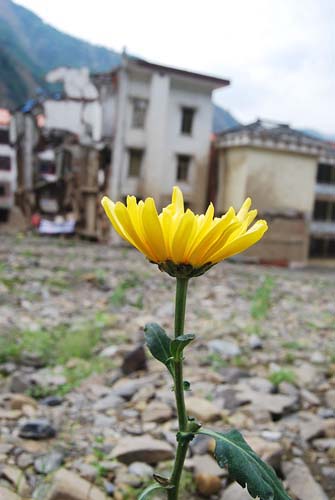 A yellow chrysanthemum stands alone in the ruins of Beichuan County on May 10 (CHEN RAN)
After staying with relatives for three months, the Chengs and his mother-in-law moved into the Yongxing Resettlement Residential Complex in Mianyang. Cheng helped unload disaster relief materials and did additional volunteer work. His wife started a part-time job at a local factory, and in her spare time learned guozhuang, a traditional ethnic Qiang dance. She performed the dance with neighbors during Spring Festival celebrations.
Cheng said the volunteer work helped keep his mind off his daughter. He took a driving course in February, but failed to pass because of his frequent absentmindedness. Now he is waiting for a second chance.
"I feel huge pressure. I wake up whenever I have earthquake dreams, and I often see my daughter's smiling face in my mind," Cheng said. "I would rather bear it than tell my wife or mental health volunteers. I don't want to bother them." Worse still, his son seems affected by the quake, too, crying out whenever he hears startling sounds.
Cheng said his son is his biggest motivation in life; he and his neighbors in the resettlement complex are looking forward to moving into the new Beichuan County as soon as possible.
In fact, plans to rebuild the new county seat of Beichuan were under way as early as late May last year. Officials chose a flat plain adjacent to traffic networks, 2 km east of Yong'an and Anchang in neighboring Anxian Township, and only 23 km from the original site. Chinese President Hu Jintao gave it the name Yongchang Township, which means Prosperity Forever.
Cheng felt good after seeing the plans for the new site. "My son can go to school there after we move in. I'll find a job and make money after getting my driver's license. As my son grows up, I'll tell him about the earthquake, let him know how he was saved and how the government helped us in disaster relief. I'm sure this will help shape his sense of gratefulness and he will contribute to the country in return," he said.
Backgrounder: The three phases of rebuilding Beichuan County
Beichuan is the ancestral home of the 300,000-strong Qiang people. The rebuilding plan drafted by the China Urban Planning and Design Institute aims to turn the new Beichuan county seat into a cultural city featuring ethnic Qiang characteristics.
The first phase of the 10-square-km county seat will take shape in three years, with public welfare facilities, government headquarters and housing. The core area will have a population of 35,000. More than 80 percent of residents are expected to be earthquake survivors, who will live in low-rent houses and affordable homes. The second phase (2011-2015) will focus on urban expansion and service improvement. The final phase (2015-2020) will push forward urbanization and industrialization in surrounding areas.
(Source: Beichuan County Government)
(Reporting from Beichuan)