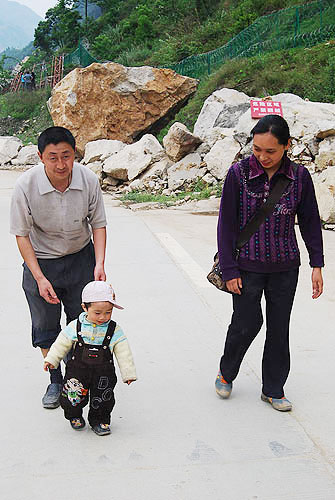 Cheng Piyi and his wife bring their 16-month-old son to mourn their 10-year-old daughter, whose primary school collapsed in the quake, on May 10 (CHEN RAN) 
At 5 p.m. on May 10, Cheng Piyi, 39, finally took a deep breath after visiting his former home in Beichuan Qiang Autonomous County, Sichuan Province. Three hours earlier, Beichuan County, one of the worst-hit zones in the devastating 8.0-magnitude quake on May 12 last year, lifted the entry ban for the following four days, paving the way for former residents to mourn family and friends who died or are still missing.
Cheng, together with his wife and son, kowtowed in the direction where his 10-year-old daughter was buried. Cheng and his wife stood hand in hand, crying in grief. It was the fourth time the Tibetan man had mourned his daughter's death since the quake.
Before the quake, the Chengs lived in Qushan Township of Beichuan County. Cheng worked as a boiler worker at a nearby thermal spring resort. When the quake occurred at 2:28 p.m., Cheng was taking a nap at home, while his wife was feeding their 4-month-old son.
"It was so powerful that it shook us from the third floor to the second. I immediately pulled my wife and my son out of the apartment," Cheng told Beijing Review. "We tried to find our daughter for emergency evacuation, but her primary school had been buried due to the hillside collapse."
Relatives lent the Chengs a hand, providing free accommodation in nearby Mianyang City. Cheng went back and forth between the primary school site and hospitals in Mianyang, searching for his daughter. But no one had answers for him. It was not until he ran into his daughter's teacher at a temporary resettlement site that he knew for sure--his daughter was dead.
"She was a well-behaved and sweet girl," he said. "Although I knew she was probably buried under the debris soon after the quake, I hoped that she might have been saved by kind people anonymously and was now living somewhere I couldn't find her."
Cheng said he came here to visit his daughter three times before--on the first 100 days after the quake, at Spring Festival, and on Tomb-Sweeping Day. "How time flies! It has been nearly a year since the quake occurred," he said.