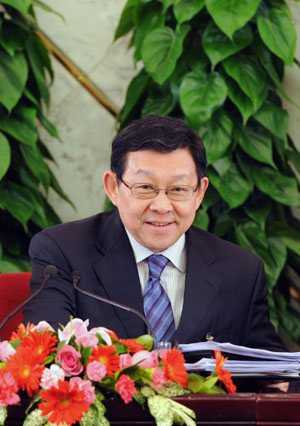 Minister of Commerce Chen Deming attends a press conference (Xinhua) 
The Chinese Government will actively promote the Doha Round of WTO negotiations and expects other countries to support it as well, Minister of Commerce Chen Deming said at a press conference on March 10, during the Second Session of the 11th National People's Congress.
Chen said the Chinese Government would vigorously promote the Doha Round of trade talks. He also expected the Obama administration would fulfill the commitments to the Doha Round made by the previous U.S. administration rather than reevaluate or renege on them. Meanwhile, Chen urged the United States and major developing countries whose views conflict on the issue of a special safeguard mechanism for agriculture to "sit down and have serious discussions." He also said he hoped the Doha Round, which was on the verge of success before negotiations collapsed last summer, could proceed equally and fairly and with more respect for the interests of developing countries, making multilateral trade the main path to economic rejuvenation in the face of the global financial crisis.
Chen said wide support from the international community is needed to reverse the decline of international trade. He said that China would first of all maintain its stable economic growth and stick to a pro-free-trade policy, which is consistent with the requirements of the Doha Round. "We should fight trade protectionism together," he said.
The Doha Round of WTO negotiations was launched in Doha, Qatar in November 2001. The new round covers eight areas of negotiation: agriculture, non-agricultural market access, the service sector, intellectual property rights, rules, dispute settlement, trade and environment issues and trade and development issues. The Doha Round is so far the largest in WTO negotiations in terms of number of goals and participants. The principles of the Doha Round include encouraging WTO members to reduce trade barriers and generating a fairer trade environment to promote global economic growth, especially growth in poor countries. The main mechanism is for developing countries to open their industrial products market and services market to developed countries and for developed countries to open their agricultural market in return. Over the past seven years, the negotiations have survived several breakdowns. The most recent round of negotiations in Geneva collapsed in July 2008 over special agricultural tariffs. Developing countries, including India, demanded the adoption of a special safeguard mechanism, a measure designed to protect poor farmers by allowing countries to impose a special tariff on certain agricultural goods in the event of an import surge, which was rejected by some developed countries.