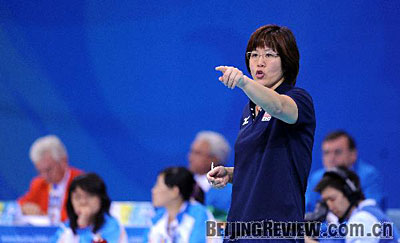 Among all the former Chinese athletes coaching foreign teams at the Olympics, Lang Ping, head coach of the U.S. women's national volleyball team, is probably the best known among Chinese sports fans.
With the nickname of "Iron Hammer" when playing in the Chinese national team in the 1980s, she and her teammates became icons of China after winning five world titles in a row, including an Olympic gold medal at the 1984 Los Angeles Olympics. After Lang retired as an athlete, she witnessed a decline in the Chinese women's volleyball team. In 1995, Lang returned from the United States to be the head coach of the Chinese national team and eventually guided the squad to a silver medal at the 1996 Atlanta Olympics. In the eyes of Chinese volleyball fans, Lang will be a daughter of the Chinese people forever although she has become an American citizen. Therefore, when she became the head coach of the American national team in 2005, most Chinese people said they fully respected and understood her decision. In the following years, when Lang headed her team to compete in China, the Chinese audiences would also give her team home-field applause, even when they competed against the Chinese national team.
From the first day Lang coached the American team, it seems destiny that there will be a day that her team meets the Chinese team on the Olympic court. The paramount goal of professional sports is to win. On the path for the goal medal, Lang's team has to try their best to defeat opponents, including the Chinese team. More than an excellent player, Lang also has had a splendid coaching career behind her, which qualified her for the position of head coach of the American team. Therefore, defeating the Chinese team is a realistic goal for Lang.
Whatever the final result, Lang will be remembered by most Chinese people not only as a coach of a foreign team. Her contributions to Chinese volleyball sports, American volleyball sports and exchanges between two countries will be viewed above and beyond the result of one match. Lang is a legend on the volleyball court as well as a cultural ambassador between China and the U.S..
Thus, the victory of Lang's team at the Beijing Olympics will be seen by Chinese people as success for the United States, as well as success of China. Whoever will win the battle between the Chinese women's volleyball team and the American team, Lang will continue to be the pride of the Chinese people.
(Source: Titan Sports)