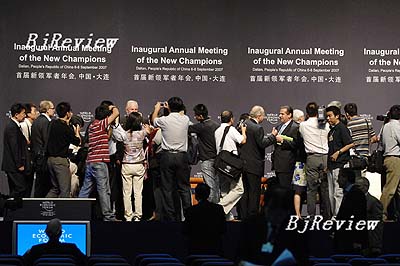 Hot on the heels of the news that Microsoft Corp. paid $240 million for a 1.6 percent stake in Facebook Inc. at the end of October, it is reported that Facebook, launched in 2005 by undergraduates at Harvard, is interesting in purchasing China's zhanzuo.com for $85 million and e.pku.edu.cn for $10 million.
"The skyrocketing value of campus online communities demonstrate the optimistic prospects enjoyed by websites emerging from universities," said Xu Zhaohui, head of xiaonei.com (an online community like Facebook), and Vice President of China Interactive Corp. (CIAC).
CIAC paid for outright ownership of Xiaonei in October 2006, and Chen Yizhou, Chairman of the Board of Directors declined to disclose the price involved. However, even more dramatically, in 2000, Chen had sold Chinaren, a website set up by himself, to Sohu.com for $33 million.
Xiaonei, China's largest online community website among universities, currently attracts more than 8.8 million active users and as many as 15 million users registering their real names. Nearly 2,000 colleges and universities at home and abroad have access to its community platforms. It was established in April 2005 by Wang Xing, a graduate from Tsinghua University, when the concept of Web 2.0 and theory of Six Degrees of Separation by Stanley Milgram, were in vogue. Wang left Xiaonei in July 2007, and Xu Zhaohui of CIAC became the head.
Xiaonei got its first large audience with the support of university students, who promoted the web in various ways, connecting with their friends and family members. To retain its audience, Xiaonei made itself a platform where web surfers connected with their classmates in the same university, ex-classmates from middle and high schools, fellow townsmen, and people sharing same interests. The number of users was seen to increase by 100 percent each month, in less than one year. By the time it had joined CIAC, Xiaonei had attracted more than 7 million people.
CIAC itself boasted the 5Q Website, which was not as popular as Xiaonei when the merger was done, according to Xu.
"Xiaonei would have won profits if it had not continued the expansion," said Xu. "The web exists to make profits, mainly by Internet ads, in addition to wireless services and selling of virtual commodities."
Xiaonei has attracted hundreds of advertisers, including Canon and Samsung. Game operators began to advertise on it as well.
"The advertisements put on our site are selected, and the aim is to not affect the users by being too intrusive or heavy-handed," said Xu.
Xiaonei has established personality-featured homepage making, more advanced search functions and a community organization function, and is considering, like Facebook, to open an API source code, so as to accept the users' products featuring their own personalities, in accordance with visitors' demands.
However, Xiaonei faces certain hurdles, such as the rebuilding of its guidelines after the founders' exit, and low spending by students.
"Their spending nowadays is between 800-1,000 yuan or above, not so low," said Board Chairman Chen, in line with a survey by CIAC. He believes these students will automatically become a wealthy group among their peers after graduation, thus producing value for the web.
To increase the number of users, the website formally declared on November 20 that it was open to white-collar workers with a high spending power, who badly needed to surf the web to keep and expand their real guanxi, or people's relations. The site also plans to open to senior high school students who will enjoy an independent community, according to Xu.
Before the sealing of the deal between CIAC and Xiaonei, the latter had three rounds of talks with Sequoia Capital China, but failed to reach an agreement. In July 2006, Sequoia Capital China invested millions of dollars in Zhanzuo, a website specially for university students. It was founded in April 2006 and has attracted nearly 10 million users, including those from about 850 colleges and universities.
On November 5, when Facebook declared an interest in purchasing China's zhanzuo.com, it was said that the quoted price was raised to $100 million.
E.pku Chief Operation Officer (COO) Tang Jincao confirmed that Facebook intended to purchase e.pku.edu.cn, but hadn't reached an agreement, yet. The Peking University website attracts more than 7 million web surfers, with over 95 percent of them on the education network.
Another social network, 99sushe.com, established by students returned from abroad, raised $25 million early this year and lured about 2 million users.
Myspace China CEO Luo Chuan said in June at a forum that his venture aimed to fight for a bigger share in China's university Internet market. The move will lead to direct competition between Myspace and Facebook in China.
"So many companies flooding this market will no doubt intensify competition in the year to come, but those who stand out in terms of tool functions and team management will live to the last," Xu Zhaohui noted.
(Source: 21st Century Business Herald, sina.com )