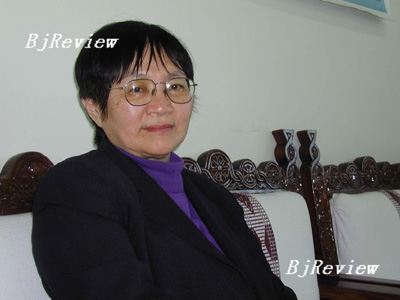 More than a century ago, in 1904, a 17-year-old young Chinese, leaving behind his wife and new-born son, came to Rhodesia (now Zimbabwe) to make a living, as he had no chance of getting a share of his ancestral property, being the youngest among the five boys of a peasant family in Nanpan Village near Guangzhou. After 18 years, his illiterate village wife adventured into Africa all by herself to join him, knowing there was no possibility of his return to China. The brave woman overcame all obstacles of language and location in the course of her long journey.
This is not a fictional story, but a true account of what happened to the grandparents of Fay King Chung, the first woman Chinese minister of Zimbabwe and the first Director of the UNESCO International Institute for Capacity Building in Africa (IICBA). She worked in various capacities in the Zimbabwean Ministry of Education in the 1980s, before finally rising to the position of minister.
According to Fay, her grandmother's talents and industry contributed a lot to her family's wealth accumulation in the remote African land. Fay's rise as the first Chinese female minister in Zimbabwe also owes a lot to the bravery and determination she has inherited from her grandmother.
Similar stories
In late October 2006, just before the Beijing Summit of the Forum on China-Africa Cooperation (FOCAC) got underway, the retired minister visited her grandparents' hometown.
"I am here specially to see my folks in Nanpan Village. I am not going to attend the FOCAC," said Fay. It was her second time back in the village after 1973. This time, she brought her 20-year-old daughter with her. Though Fay was born and raised in Zimbabwe, she can speak fluent Chinese in the dialect of her hometown.
Fay's grandparents' story is not unique in Nanpan Village. Many other women share a similar tale. During her first trip in 1973, these old women came up to Fay with almost the same question on their lips, "Have you ever met my husband?"
When Fay asked them where their husbands had gone, she got several answers ranging from South Africa to Cuba and Jamaica. It was only then that Fay understood why they had all asked the same question: The women were left behind by their husbands around the time of World War I, and all they knew was the men were "overseas.'' Since Fay has been living overseas, they inferred she must know their husbands.
"Even this time, some women came up to me and asked very seriously why I didn't know their husbands!" Fay smiled sadly, adding that one of her aunts had died regretting not seeing her husband's return. According to Fay's estimation, at that time, around 50 percent of the married women in Nanpan Village shared the same fate. Some received some money from their husbands by post for a while, while others had never heard from their husbands.
Racial identity
Fay is an icon of hope for Chinese families, and even to all Zimbabweans. In the 1960s, in Zimbabwe (called Rhodesia at the time), black people were not permitted to enter secondary schools. Fay took advantage of her racial identity to finish her secondary and tertiary education. After graduation from the university in Harare, she went on to teach at a high school and hoped to do something to change the non-whites' access to education. After getting her master's degree, Fay served as a lecturer at the Leeds Polytechnic in Britain and later the University of Zambia. She worked wholeheartedly for the Liberation Movement, and was in charge of teacher education and curriculum development for Zimbabwean refugee schools in Mozambique.
After Zimbabwe's independence in 1980, Fay joined the Ministry of Education, rising through the ranks until she became the Minister of Education and Culture. After retiring from the post, Fay served overseas for a number of years, as Chief of the Education Cluster at UNICEF and as Honorary Special Advisor to the African Union. She also has published a number of essays on education.