How is personnel exchange going between the PLA Navy and the Pakistan Navy?
At present, I think the maximum of officers and sailors are going to China for training. The reason is that we have all these ships and helicopters manufactured in China, so we go for training in China for staff courses and other courses. Meanwhile, the Chinese also come for the courses in Pakistan. We have a good relationship with China in manufacturing, in construction as well as in training. But few Pakistanis speak very good Chinese, so we have seven officers who are now taking Chinese language courses. About one third of Pakistan Navy officers have been to China for different courses, acquisition of ships and etc., which shows that cooperation between the Pakistan Navy and China is increasing day by day.
Do you think the takeover of the Gwadar Port will trigger problems in security or business cooperation?
No, I don't think there will be any problems. The port is basically made by China, and now the Chinese have taken it over for development. Security problems exist all over Pakistan, whether in Gwadar or Karachi. The situation is the same, so it does not matter.
As you know, this port was with Singapore, and we have taken it back from Singapore and transferred it to China. We come to this conclusion that China will manage it well. We don't see any problems with China's management of the port. We see China in a different view from some other countries. We are not worried as they are.
How do you comment on the relationship between Chinese and Pakistani navies?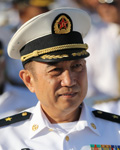 Yuan Yubai

Yuan Yubai: The friendship between China and Pakistan and their respective navies has been ongoing for several generations. We need to carry this good relationship forward. As we work together, we will consider the possibility of signing maritime strategic pacts.

What has impressed you most during your tour in Pakistan?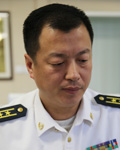 Wang Qiang
Wang Qiang: There are two aspects. First, before the start of the naval exercise, we were invited to Islamabad to have a preparation conference. The Pakistani side attached great importance to our participation. Despite its challenging security situation, still we feel safe and happy to work in Pakistan.
Second, although we had first held a fair meeting, some details of how to operate the exercise were not decided until we arrived in Karachi on March 5. As this was a multinational joint action, not every country was used to the standards originally set. When this happened, changes to the set schemes were necessary. We were so thankful and moved that the Pakistan Navy accepted all the requirements of the PLA Navy for changes. We feel that Pakistan is very friendly to us, and they value the PLA Navy's participation very much.
Moreover, chief officials of the Pakistan Navy came to visit the Harbin. As for exercise items at sea, apart from joint programs attended by all, the Pakistan Navy particularly invited the PLA Navy to participate in several demonstration activities, presenting to the other participants, like anti-surface firing, which fully showcased China-Pakistan friendship. Moreover, the two navies held basketball and football matches and shooting competitions during the exercise.
How do you characterize China's participation in the exercise?
China and Pakistan are tested friends. The two sides have offered each other great support in many cooperation programs. Since 2007, Aman exercises have been held every other year and China has been invited each time. China has sent ships to participate in all the programs scheduled by the Pakistan Navy.
In Aman-2013, China sent a missile destroyer Harbin, a frigate Mianyang and a supply ship Weishanhu. The PLA Navy took part in all programs both at sea and on land. As for land programs, commanders and special operations forces members of the PLA Navy joined the Pakistan Navy for training in their camps.
This military drill covered 18 exercise items, such as replenishment at sea, anti-surface firing, joint search and rescue, air defense, helicopter cross-deck landing and participants took command of different items. The PLA Navy took command of the two items of replenishment at sea and air defense.
Soon after the end of the exercise, the Chinese fleet will head for the Gulf of Aden. In what ways do you find this exercise helpful to your escort mission there?
Many of the participants of this exercise will also go to the Gulf of Aden for escort missions. This exercise has offered an opportunity for the PLA Navy to increase mutual trust and enhance friendship with the navies of other counties. We have talked about the escort mission in our daily communication these days and all of us hope to strengthen cooperation and information exchange, so as to reach the common goal of curbing piracy and safeguarding regional peace and stability.
(Reporting from Karachi, Pakistan)
Email us at: panxiaoqiao@bjreview.com