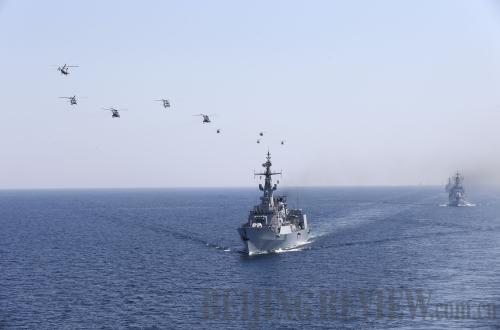 SEA DEFENSE: Helicopters pass over naval vessels during the Aman-2013 drill in the north Arabian Sea near Karachi, Pakistan, on March 8 (CHEN TUANJIE)
Naval vessels and personnel from 14 countries including China, the United States, Britain and Pakistan, conducted a joint exercise in the north Arabian Sea off Karachi, Pakistan, from March 4-8.
The exercise, Aman-2013, aimed to display a united resolve against terrorism and crimes in the maritime domain. Aman means peace in the Urdu language.
Beijing Review reporter Pan Xiaoqiao interviewed Rear Admiral Khan Hasham Bin Saddique, Commander of the Pakistan Fleet, Rear Admiral Khawaja Ghazanfar Hussain, Commander Karachi, as well as Rear Admiral Yuan Yubai, Chief of Staff of the North Sea Fleet of the People's Liberation Army (PLA) Navy, and Wang Qiang, Deputy Chief of Operation Department of the North Sea Fleet and Captain of the Chinese missile destroyer Harbin. Excerpts of the interviews follow:
Beijing Review: How do you see the significance of Aman-2013, and in what specific ways do you think it can help promote the relationship between Chinese and Pakistani navies?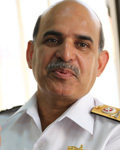 Khan Hasham Bin Saddique

Khan Hasham Bin Saddique: I think the exercise has brought us opportunities for cultural exchange and also for all participants to learn from each other, because we have so many countries together. Some are strong in certain respects where others may not be so good.

We are cooperating with international efforts and also at the bilateral level, as well as with all navies and maritime agencies within the Indian Ocean to ensure that this part of the ocean is peaceful, and maritime activities proceed without any troubles, crimes or piracy.

I personally feel that there is a lot of scope for enhancing the PLA Navy and Pakistan Navy collaboration in the Indian Ocean. I think the two countries need to enter into a memorandum of understanding on strategic maritime cooperation or some other sort of pact in order to benefit from each other. It should cover not only naval cooperation, but also ship building, squad visits, training and exercises.

There is great potential for cooperation between China and Pakistan. We need strategic maritime cooperation like we have in economic fields and other areas. Especially in terms of China's energy security and related issues, I think it will be better if we work together.

We are very pleased that the Chinese Government supplies and collaborates with us in ship construction. I think this collaboration should also extend to naval submarines.

As for China's takeover of the management of the Gwadar Port, Pakistan must face great pressure from the outside world. How do you deal with this pressure?

Every nation has its own national interests. China has its national interests and we have our own, and these interests are at times challenged by all kinds of problems, internally and sometimes externally. So nation states have to use their national power potential, diplomatic and economic means, as well as their information capacity and military capacity to safeguard their national interests.

The development of Gwadar is part of the important national interests of Pakistan. Therefore we are extremely pleased that we have China as a trusted friend, who will oversee this port's development. And when it comes to our national interests, we pursue them—irrespective of opposition. This is the challenge every nation has to face and we will use all our national power potential to safeguard the interests and security of the Gwadar Port.

China sent three warships to participate in the Aman-2013 exercise. How do you feel about the Chinese fleet's participation?

We are very pleased and happy to have such a big participation from the PLA Navy. Given the kind of relationship between Pakistan and Chna as well as between the Pakistan Navy and PLA Navy, we expect this level of participation from our Chinese friends. It could give us the opportunity to further refine our procedures and enhance cooperation between the two navies.

On the whole, how do you see the current China-Pakistan relationship, especially between the PLA Navy and the Pakistan Navy?
Khawaja Ghazanfar Hussain

Khawaja Ghazanfar Hussain: We have a special regard for China. We consider China as our brother. I have been to China four or five times, most recently four months ago. As commander Karachi, my basic responsibility is the training of officers and sailors. In Pakistan, it is widely known that China is our trusted friend. Whenever we have any problems or difficulties, the Chinese people and the Chinese Government help us.

We would like to have more and more cooperation with China. In times of difficulty, it is only China that is helping us, especially with the Pakistan Navy. We have your ships—we have F-22P frigates from China—and we have many Chinese working in our dockyard. So we are very thankful and obliged to China for supporting us in this difficult time. We hope and pray that our friendship will go further.